Download the 2017 Risk Management Maturity Benchmark Study Results Report
The FAIR Institute and RSA recently hosted a webinar to discuss in detail the results and findings of the 2017 Risk Management Maturity Benchmark Study. The webinar and full report can be found in the Member Resources Center. You can also fill out the form to the right to download and read the benchmark study results report.
The webinar includes an in-depth analysis of survey insights by leading risk management experts. Engaging conversation with Jack Jones, Chairman of the FAIR Institute and Steve Schlarman, Director and GRC Strategist, RSA helps to clarify the information to best fit your organization.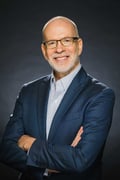 Co-hosted by Jack Jones:
Jack Jones is the EVP of R&D and a Founder of RiskLens. He has worked in technology for over 30 years, the past 28 years in information security and risk management. He has a decade of experience as a Chief Information Security Officer (CISO) with three different companies, including a Fortune 100 financial services company. He is the author and creator of the Factor Analysis of Information Risk (FAIR) framework. He writes about that system in his book Measuring and Managing Information Risk: A FAIR Approach.

Co-hosted by Steve Schlarman:
Steve Schlarman brings over 20 years of deep IT compliance and security expertise, applying his experience to product marketing and strategies of RSA Archer's GRC solutions. Prior to joining RSA Archer, Steve was one of the founders of Brabeion Software and the Chief Strategist where he was responsible for overall product strategy. Before Brabeion Software, Steve was a Director in PricewaterhouseCoopers' Advisory Practice focusing exclusively on information security consulting.


Stay updated and connect with the FAIR Institute. Become a member today.