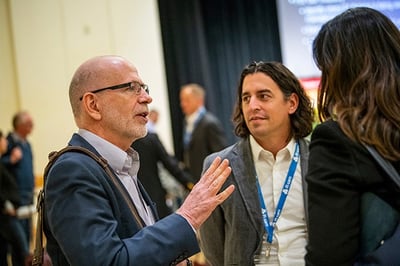 The FAIR Institute is excited to announce a new local chapter, created specifically for members of the Federal Government. The chapter kicks off with a breakfast discussion November 15 in Washington on the topic "Assessing Cyber Risk in Federal Government". Register now.
This chapter of the Institute, a non-profit, expert learning organization, was born out of the desire of several federal government agencies and the White House/OMB to learn more about the standard FAIR risk model that is rapidly spreading in the private sector and is already used by 30% of the Fortune 100.
Specifically, government agencies are interested in how FAIR can help them to come up with a common risk taxonomy, a shared cyber risk quantification methodology, and better ways to assess the effectiveness of risk mitigations and the adequacy of cybersecurity budgets to meet requirements of Executive Order 13800.
Come listen to and learn from the author of FAIR, Jack Jones (above), representatives from OMB and cyber risk officers from other federal agencies that have started on this journey.
The inaugural breakfast meeting for the Federal Government Chapter will be on Thursday, November 15, from 8:30–11:00 AM. The meeting will take place at Morrison & Foerster, 2000 Pennsylvania Avenue, NW, Suite 6000, Washington, DC 20006. Register now.
Please note, this meeting is open only to employees of the Federal Government and FAIR Institute sponsors.
Related:
Jack Jones Warns About "False Sense of Security" in Homeland Security