Managing Risk Explicitly in Order to be Effective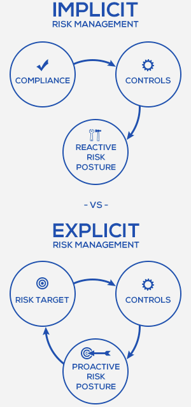 Your organization already manages risk. The question is whether it is doing it implicitly or explicitly. A risk management program needs to be explicit to be effective.
In an implicit approach to cyber risk management, an organization might have aligned its cybersecurity policies with a framework like NIST CSF, and it might have a NIST CSF-based enterprise risk assessment performed annually. The cybersecurity staff probably prioritizes and works hard to address the findings from that assessment. Where the organization ends up risk-wise however, is a by-product of these efforts.
There is little control of the outcome from a residual loss exposure perspective as it isn't clearly defined within such frameworks, and the measurements are only loosely associated with risk. In order to be explicit, there would need to be a specific and quantified risk target that is actively being managed against.