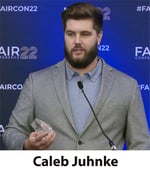 At the recent FAIR Conference, we awarded Caleb Juhnke, Sr. Risk Engineer at Equinix, the FAIR Institute's 2022 FAIR Ambassador Award. Caleb been highly instrumental in re-establishing the Kansas City FAIR Chapter and he has been presenting at their meetings. He has established a quarterly cadence to these meetings and began the process by sending out surveys to see the most relevant topics for the attendees.
---
Luke Bader is Director, Membership and Programming, for the FAIR Institute
---
Caleb has rich insights into FAIR approaches, how they can be rolled out at organizations, and challenges with FAIR adoption that he openly shares and champions across the Kansas City region. Caleb has an unmatched passion for risk management and for FAIR. He exemplifies the requirements of a FAIR Ambassador both in personal work and in the region.
Caleb has also contributed to the FAIR community with insightful posts for the Institute's blog. Check out his writing here:
3 Quick Steps for FAIR Program Maturity
What to Do After You Pitch Quantitative Risk Analysis
Understanding and Managing Skeptical Stakeholder Reaction to Quantitative Cyber Risk Analysis
Caleb receives the award with (from left) Jack Jones, FAIR Advisory Board Member Donna Gallaher and Institute President Nick Sanna
---
Advance your career in risk management - join the FAIR Institute
---
Caleb discovered FAIR through Jack Jones' book Measuring and Managing Information Risk while working at the US Department of Agriculture and looking or a way to prioritize information security risks. The book struck a chord with him based on his experience as a submariner for the US Navy: "When your goal its being undetectable," he says, "almost everything presents a risk to safety and the mission. I really learned the importance of quickly identifying risk into categories and prioritizing. 'When everything is a risk, nothing is' can be a very dangerous mindset that experienced submariners have to be intentional to avoid."
Learn more about Caleb's FAIR journey in a Meet a Member interview we recorded in 2021.
Congratulations, Caleb, on winning the FAIR Ambassador Award for 2022!