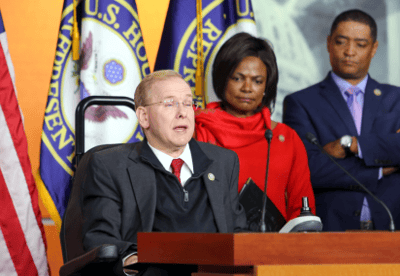 Congressman Jim Langevin, a pioneer in cybersecurity legislation and oversight, will speak at the 2019 FAIR Conference, to be held September 24-25 in National Harbor, MD, outside Washington.
Langevin, a Democrat representing Rhode Island, chairs the House Armed Services Committee's Subcommittee on Intelligence and Emerging Threats and Capabilities that oversees Defense Department policy and programs for cybersecurity, and sits on the House Committee on Homeland Security's Subcommittee on Intelligence and Counterterrorism.
Langevin co-founded the bipartisan Congressional Cybersecurity Caucus back in 2008 and is credited with authoring the first comprehensive cybersecurity legislation to pass a chamber of Congress, in 2013.
He was recently in the news for sponsoring an amendment with bipartisan support that would force the White House to hand over a secret memo issued by President Donald Trump that lifted earlier restrictions on U.S. Cyber Command's operations against adversaries. "I can't recall a time when a document of this significance has been withheld from Congress," Langevin said.
Langevin is also an expert on election security, and has worked to build bridges between the hacker community and lawmakers. He's been a regular speaker at DEF CON. "Congress needs hackers to help us navigate policymaking in cyberspace!" he recently tweeted.
Langevin's appearance at FAIRCON19 comes at a turning point for risk management in federal agencies that suggests that government CISOs will soon be following their private industry counterparts toward a quantitative, risk based approach like FAIR.
Congress's Government Accountability Office (GAO) recently investigated risk management at 23 federal agencies and repeatedly heard complaints from CISOs that lack of a common vocabulary for risk and lack of quantitative risk analysis techniques were holding back their programs, leading to what the GAO called "an increased risk of cyber-based incidents that threaten national security and personal privacy."
Some hopeful signs: an Energy Department official recently said that his agency was now running FAIR analyses on critical projects…and the Army just put out a request for proposals from contractors to help it achieve a proactive risk posture.
Langevin joins a distinguished group of speakers at the FAIR Conference, including John Wheeler, Global Research Leader - Risk Management Technology at Gartner, Kevin Stine, Chief of the Applied Cybersecurity Division, NIST, and private sector cybersecurity leaders from Walmart, Fannie Mae, BB&T, Highmark and many more. See the FAIRCON agenda here.
---
Hosted by the FAIR Institute and our sponsoring partners, the 2019 FAIR Conference brings leaders in information and operational risk management together to explore best practices for FAIR (Factor Analysis of Information Risk), the international standard model for applying financial analysis to cybersecurity risk. Join us for FAIRCON19!