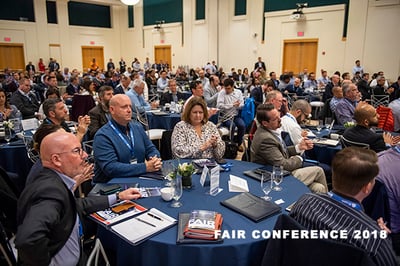 For the past three years, the FAIR Institute has been leading the charge in changing the risk management industry and promoting better practices in information security and operational risk with Factor Analysis of Information Risk – FAIR.
Having surpassed 4,000 members in December, we are on track to continue our growth exponentially as we move further into 2019. A look into our membership base shows the signs of far-reaching FAIR adoption; there are FAIR members across the largest companies around the world:
Institute members come from 87 different countries
20% of the member base is comprised of senior leadership of security and risk, including CISOs, Vice Presidents, Heads of Security, and C-Suite Executives from the largest companies in the world
Nearly 30% of Fortune 1000 companies are represented in Institute Membership
8 of the Fortune 10 organizations have members in the Institute
75% of the Fortune 50 are member organizations of the FAIR Institute
---
Luke Bader is Director, Membership and Programs for the FAIR Institute.
---
The Institute is fortunate for our members and our leadership. Our Board of Advisors is comprised of the leading minds in the industry from companies like Bank of America, Cisco, and RSA.
Below are some quotes from members of the FAIR Institute Board of Advisors celebrating our third anniversary:
Chris Porter, CISO, FannieMae
"In past three years, the FAIR Institute has grown more rapidly than we ever envisioned. This incredible momentum is a testament to the fact that the FAIR model is bringing a much-needed revolution to information security and operational risk management. The growth of the FAIR Institute validates that there has been a tremendous amount of pent up demand in the industry to push the envelope forward in how we deal with these critical business issues."
Bill Barouski, SVP and Deputy CISO, Northern Trust, Fmr. EVP and CISO Federal Reserve System
"As we look forward in 2019 and where the FAIR Institute is heading, we are poised for strong growth in this community. Our membership consists of nearly 30% of Fortune 1000 companies, 75% of the Fortune 50 companies, and 8 of the Fortune 10 companies, -- interest, participation and acknowledgement is growing everyday."
Wade Baker, Founder, Cyentia Institute & Author, Verizon DBIR
"I joined as a Board Member of the FAIR Institute because I believe wholeheartedly in the need to change the status quo in risk management. I am overwhelmed by how this community has rallied together to drive best practices in our industry and by how the community has grown. FAIR Institute members come from over 80 different countries and the global reach that we now have is indicative of what I've long known - the FAIR model is the new standard for operational and IT risk.
Evan Wheeler, VP Risk Management, CISO, Financial Engines
"At last year's FAIRCON18, I was in awe of the caliber of organizations and knowledge of individuals who presented and attended. FAIRCON19 promises to be even better as our community grows exponentially with each passing week."
Upcoming Events
We are looking forward to a great year ahead including some of our events coming up soon!
If you are going to RSA Conference 2019 next week, we would love to meet you at one of our events! Here's where you can find us at RSAC19:
FAIR Analysis Fundamentals Training just before RSAC19: Take the FAIR Analysis Fundamentals Course, Sunday and Monday, March 3-4, near Union Square, to gain a foundational understanding of the FAIR model that powers the RiskLens platform and prepare for the Open FAIR certification exam. Seats are still available so register now!
The FAIR Institute Breakfast Meeting, Wednesday at 8-11 AM, featuring cases studies by ADP and Ascena Retail Group and a panel discussion including Jack Jones on how they adopted FAIR and quantitative risk assessments as a basis for risk-informed decision making. Last few seats available - reserve now.
More chances to hear Jack Jones, Chairman of the FAIR Institute: He will speak on Defining a Cyber-Risk Appetite That Works on Tuesday, 11 AM and Wednesday, 1:30 PM. Jack will "share a simple process for defining an unambiguous cyber-risk appetite that can drive better decision-making" beyond the typical high-medium-low, qualitative approach. And Jack appears on a panel on "Managing and Quantifying Cyber Risk Across the Enterprise" at 3:15 PM Monday as part of RSA Public Sector Day.
Later this year, our annual 2019 FAIR Conference and Training will be held later this year at the Gaylord Convention Center & Resort in National Harbor, MD, just outside Washington, DC, on September 24 & 25, 2019!
The fourth annual conference will be our largest yet with more sessions, multiple learning tracks, and two optional training courses offered before the conference!
Hosted by the FAIR Institute and our sponsoring partners, the 2019 FAIR Conference brings leaders in information and operational risk management together to explore best FAIR practices that produce greater value and alignment with business goals.
With FAIR and a quantitative approach, large enterprises and government organizations are creating breakthroughs in the management of information and operational risk that enable business-aligned communication, cost-effective decision-making and ultimately managing what matters. Watch the videos from the 2018 FAIR Conference.
Early bird tickets are available now, so don't waste any training budget – reserve your spot today!