A panel at the recent FAIR Institute Middle East Summit, held in Amman, Jordan showed the increasing interest and acceptance of cyber risk quantification principles such as the ones brought forward by the Factor Analysis of Information Risk (FAIR™) standard, across diverse tech sectors in Jordan and the Middle East.
---
Watch the video: Creating National Cyber Risk and Governance Culture. FAIR Institute Contributing Membership required. Join now.
---
On the Panel
From Left:
Moderator: Dr. Wa'ed Al Maitah, Senior Content Writer, National Cybersecurity Center of Jordan (NCSC)
Ahmed Al-Qawasmi, Chief Internal Audit Officer, Middle East Payments Services (MEPS)
Majdi Armouti, CEO, Digital Haze cybersecurity consultancy (check)
Iyad Khorma, CEO, Aqaba Digital Hub
Ismael Al-Hinti, Pres., Al Hussein Technical University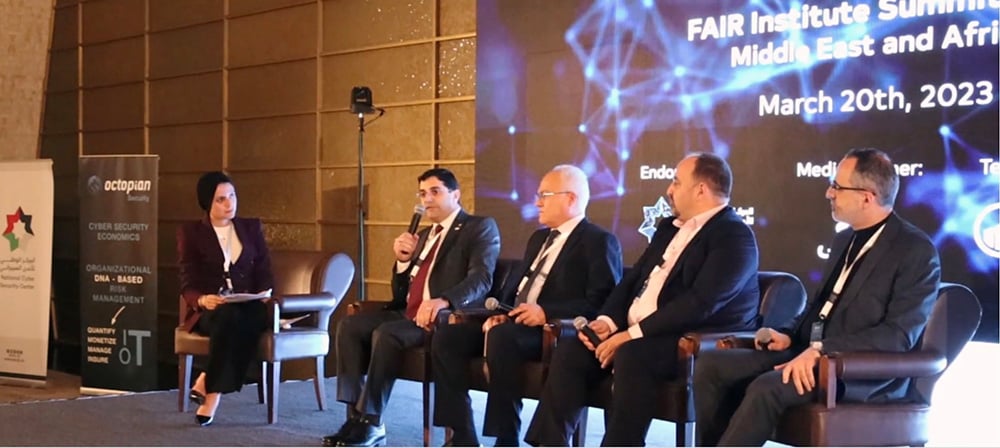 Ahmed Al-Qawasmi said that in his business "there is a clear mandate from Visa, Mastercard and the Central Bank of Jordan" for risk quantification. "This is why the FAIR model is important to quantify risk and facilitate decisions." When CISOs and CISOs present cybersecurity investment proposals, "they talk eventually in financial terms." The FAIR movement is also spreading beyond financial institutions to insurance companies, he said. FAIR is helping to bring "forward thinking" about risk instead of looking backward at risk measurement.
"When we talk about the cybersecurity situation in Jordan," said Majdi Armouti, a veteran of Jordanian government cyber defense, "the challenges that we face are infrastructure in Jordan and building trust and cooperation among different government agencies." He said he hoped that the FAIR standard could ultimately help "different gov entities to work together towards security".
The Summit also heard from Iyad Khorma about plans to make the Aqaba Digital Hub a central part of digital transformation in Jordan, and from Ismael Al-Hinti about the program to upskill students for immediate employment in cybersecurity and cyber risk management on graduation. Al Hussein Technical University recently hosted the first meeting of the Jordan Chapter of the FAIR Institute.
Join the FAIR Institute chapter in Jordan - Contact a FAIR Institute Enablement Specialist