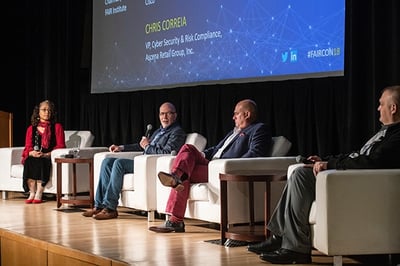 How do you move your organization off an opinion-based approach to risk management and on to fact-based discussions, with quantitative risk analysis as the starting point? In this panel discussion from the recent 2018 FAIR Conference, Chris Correia, Vice President, Cyber Security and Risk Compliance, Ascena Retail Group, La'Treall Maddox, Strategy Risk Operations Manager at Cisco Systems, and Joel Baese, director of the governance and decision science organization at Walmart, talk about their pioneering work introducing FAIR and changing the decision-making process. The panel is moderated by FAIR Institute Chairman Jack Jones.
---
Watch the video: "Shifting the Discussion to Cost-Effective Decision Making." A free FAIR Institute membership is required – join now.
---
Here are some of their tips from the FAIRCON session:
Leverage the existing work culture. A mantra at Walmart is "Everyday Low Cost" and Joel Baese keyed off that to position FAIR as a cost-saving discipline that could be applied broadly. Chris Correia focused on the retailing principle of "speed to market."
Find a high-profile demonstration project.

La'Treall Maddox proved the value of the FAIR process in a risk analysis of an acquisition by focusing on the potential fines that might hit the company to be acquired. "We changed the conversation" and made a "substantial impact" on the final offer price.
Challenge the auditors. Joel said that auditors used to drop off a pile of findings for the risk group. "Now that's looked at as the beginning of a conversation." At Ascena Retail, "we're now having a fact-based conversation with auditors," Chris said. The line from auditors that "'it's proprietary, we'll get back to you' doesn't work any more."
Solve other people's problems. "Solving other people's problems is a key lever," Jack Jones said. Risk analysis by Joel's team meant security staff could prioritize threats and work fewer nights and weekends running security centers without being less secure. "That was a turning point for adoption."
For more insights, watch the FAIRCON video "Shifting the Discussion to Cost-Effective Decision Making." A (free) FAIR Institute membership required.