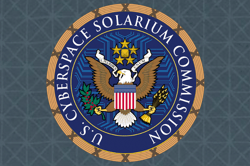 It's been a remarkable run at influencing cyber policy for the Cyberspace Solarium Commission, the Congressionally-mandated advisory group that offered 82 recommendations in 2020 – 48 have been implemented or are nearing completion, with significant progress on another 22, the successor non-profit group, CSC 2.0, reported this week.'
---
Attend a 2022 FAIR Conference Session Featuring Mark Montgomery, Executive Director, Cyberspace Solarium Commission
"A Legislative and Policy Update on Cybersecurity and Risk Management"
With Larry Clinton, President, ISA, and Frank Cilluffo, Distinguished Advisor, CSC 2.0
Tuesday, September 27, 2:15-3:00 PM EDT
Register for FAIRCON22, in person or virtual attendance
---
Among the Commission's recommendations that have been realized:
>>Appointment of a national cyber director and a State Department cyber ambassador
>>Increased CISA funding
>>A cyber incident reporting law for critical infrastructure
Other proposals have stalled in Congress, such as a National Cybersecurity Certification and Labeling Authority, a Bureau of Cyber Statistics, standing House and Senate committees on cybersecurity and a law establishing liability for software and hardware vendors for breaches resulting from unpatched vulnerabilities.
Still in play but facing industry opposition: requirements for operators of critical infrastructure to meet strong digital security standards and share treat intel with the government.
"We're in the middle of the story here and we have a lot more to do," Mark Montgomery recently told CyberScoop. "Each year as you get away from the [original] report, we will get less and less done. And the question is, do we get enough done in the next two years to make a big difference?"
For a full briefing on the Cyberspace Solarium Commission's findings, Commission Co-Chair Rep. Mike Gallagher and Commission Member (and now National Cyber Director) Chris Inglis spoke to the 2020 FAIR Conference. Watch the video (FAIR Institute membership required).
Get the latest on that state of cybersecurity legislation and policy – attend the 2022 FAIR Conference.