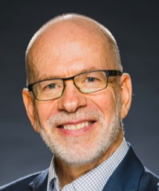 SC Media has awarded FAIR Institute Chairman Jack Jones with the SC Media Reboot Leadership Award in the Non-Profit Founders category. Jack is the creator of Factor Analysis of Information Risk, the FAIR model for risk quantification that is indeed rebooting risk management by empowering organizations to understand cyber, technology and operational risk in the same financial terms applied to the rest of enterprise risk management.
---
Read the SC Magazine profile of Jack Jones and see their coverage of the Reboot Leadership Awards of 2019.
---
The non-profit FAIR Institute spreads the good word about FAIR and risk quantification, and now numbers 6,400 members in 87 countries, nearly doubled in a year. Membership represents more than 30% of the Fortune 1000.
Among many other educational programs, the Institute sponsors the annual FAIR Conference, going on this week at National Harbor, MD, near Washington, DC. The sold-out conference will hear from a distinguished lineup of creative thinkers and doers in risk management from government and private industry including Rep. Jim Langevin, John Wheeler, Global Research Leader-Risk Management Technology at Gartner, Kevin Stine, Chief of the Applied Cybersecurity Division, National Institute of Standards and Technology (NIST) and cybersecurity leaders from Walmart, Fannie Mae, BB&T and many more forward-looking organizations.
SC Media has previously honored the Institute as one of the most influential organizations in the cybersecurity field in the last 30 years. In one sign of the FAIR Institute's influence, NIST recently added FAIR to the recommended standards in its Cybersecurity Framework (NIST CSF), the most widely used guide in American business for best practices in information risk management.
In many ways, credit goes to Jack personally for the success of FAIR: He's been a constant advocate for a quantitative, business-aligned approach to cyber risk at industry conferences and in his writing (including the FAIR book, Measuring and Managing Information Risk), first as a lonely voice against conventional wisdom that cyber risk could not be understood in financial terms – but increasingly, as a respected thought leader who is reshaping the risk management and security professions.
"On behalf of the FAIR Institute, it's an honor to be recognized by SC Media in the prestigious Reboot Leadership awards," Jack Jones commented. "Since its founding, the FAIR Institute has endeavored to bridge the communication gap between business and security teams by making it possible to measure and manage cyber risk in real financial terms, to more effectively identify and address the catalysts behind large breaches and organizational compromise. This award recognition further validates what can only be described as a revolution in risk quantification and management."