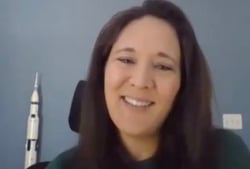 Brenda Thayer, Senior Manager, Technology Risk, at Fannie Mae, the big mortgage finance organization, packs a lot of advice into this 10-minute conversation with FAIR Institute Director Luke Bader.
Watch to learn how she:
Transitioned from a qualitative-minded operational risk manager to a FAIR™ learner and now a FAIR teacher in the organization.
Developed standardized risk assessment reports to make them more consumable for non-technical stakeholders, including executive summaries and graphics
Adapted FAIR terminology to "Fannie Speak."
Gets the team on the same page on assumptions that go into analyses
Avoids "over-think" on risk assessments.
Brenda sees a strategic advantage to FAIR analysis as well.
"A big area for us is trying to understand how our risk exposure is shifting over time. As we are implementing controls or as the market is shifting, I think FAIR has been really helpful.
"It's hard to qualitatively assess how a market change will impact your risk. But it's very easy for me to apply a market shift to my FAIR quantitative assessment data inputs and we are better able to assess, as things are changing in the housing market, or things are happening in the financial market, how these risks are shifting up or down.
"Then as we implement controls, we are better able to understand the value we are getting from it."
---
Brenda spoke on the panel discussion Scaling a Quantitative Risk Management Program at the 2022 FAIR Conference.
Learn more: Webinar: How Fannie Mae Integrates FAIR™ Cyber Risk Analysis and Threat Intel