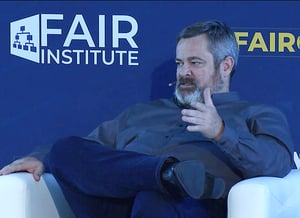 Many FAIR program leaders start at a ground level and work their way up to a board presentation. Chris Golden started at the top, as he tells FAIR Institute Director Luke Bader in this podcast interview, demonstrating FAIR to the board for the green light on a risk quantification initiative.
Chris and colleagues at Horizon Blue Cross Blue Shield New Jersey first heard of FAIR at an industry conference, read the FAIR book and Douglas Hubbard's How to Measure Anything books, then did what he calls a "dry run" at a FAIR analysis, that was good enough to present to the board.
"They immediately fell in love in love with it because the board could understand quantitative stuff, not qualitative."
He was FAIR-trained at the 2019 FAIR Conference. Chris and team next went to the other risk owners in the organization, such as Internal Audit, Privacy, Compliance and ERM. "They were a little tentative at first but the more we gave them to read about it, the more they got on board."
Next stop: a workshop with those other risk owners to develop FAIR-style scenarios for each group, and present again to the board to win approval for an internal FAIR shop of analysts.
Learn more about Chris' FAIR journey in the podcast below. Plus: Hear Chris Golden's comments as a panelist at the 2019 FAIR Conference: FAIRCON19 Video: Managing Third Party Risk