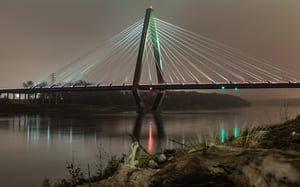 The Kansas City Chapter of the FAIR Institute (that's chapter #23!) co-chaired by Michael Kromm, IT Risk Manager at Kansas City Southern, and Michael Meis, Global Infosec Risk Manager for H&R Block, officially launches with its first (virtual) meeting September 15, 2:30 PM CDT.
Both Michaels are in early stages of FAIR™ programs at their organizations; Kromm's team has started using FAIR on spreadsheets to support decision making and, at H&R Block, Meis says that FAIR "has already changed the way we think about risk" and opened up peer-to-peer discussions between infosec and other risk-management teams.
Both are looking forward to sharing best practices with other chapter members, particularly on "building out and introducing FAIR to the organization," Kromm says.
"I think there are a tremendous number of misconceptions surrounding FAIR, and whether it can actually be done, says Meis. "That's really been the vision for this Kansas City chapter, to overcome some of those misconceptions and provide stories and advice from the ground up of how this can be operationalized."
The timing to start a new FAIR chapter couldn't be better, says Meis.
"Information security risk management is receiving more attention now than it probably ever has. So, it really presents a big opportunity for risk managers to increase our involvement in business operations and the decision-making process.
"That's where FAIR provides a tremendous amount of value. You can get them the type of information they are used to receiving at the speed that they're used to receive it."
Meet the two Michaels, learn about their FAIR journeys and what's in store for the Kansas City chapter in this podcast:
Sign up to join the Kansas City Chapter and attend the first meeting! Requires a FAIR Institute membership (free to qualified professionals) and registration on our LINK members portal. Become a member now.
Meet more FAIR Institute members.
Find your local FAIR Institute chapter.