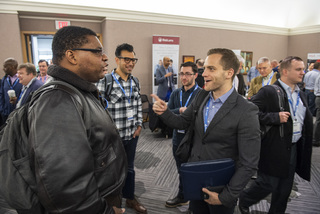 Last week at the third annual FAIR Conference, I was able meet and talk with many members to hear about their work and excitement with FAIR. I'm happy to share some top moments and photos here and the full album of photos in the Photo Gallery on our member community, LINK.
---
Luke Bader is Director, Memberships and Programs, for the FAIR Institute
---
Meeting many Institute members
FAIRCON18 was our largest conference yet and we are looking forward to an event larger conference next year. Being together, in person, provides a stronger connection for the community and allows us to have deep conversations about advancing the industry.
Learning from the industry experts
This year, we have over a dozen conference session including two keynotes, five expert panels, and presentations from Institute Workgroups. These sessions, plus plenty of networking time, provided the opportunity for amazing learning moments for all attendees.
Enjoying a great event at the Warhol Museum
Our social event at the Warhol Museum perfectly displayed who we are as a community: fun, sophisticated, and a little provocative all at the same time. The combination of inspiring art and fantastic live entertainment created a stellar event.
Hosting the FAIR Training Course before the conference
The largest FAIR Analysis Fundamentals Training Course ever hosted was an eye-opening experience for every student. If you haven't taken a course from our Technical Advisor, RiskLens, consider signing up today to become FAIR-trained and ready for the OpenFAIR Certification Exam.
Over the next few weeks, we will be posting the recordings of the sessions from FAIRCON18 on our blog and in the Resource Library on LINK. Please check back to soon to view the full recordings and sign up for free today to get access to all of our resources.
We have already received some feedback on how to make FAIRCON19 even better next year. As we finalize dates and location, be on the lookout for information coming soon. We hope to see everyone online or at another event soon!
More on FAIRCON18:
Keynote: Jack Jones Leads the Way to 'The Next Frontier in Risk Management'
2018 FAIR Awards Honor Risk Management Leaders Jason Ha of PwC, Jack Freund of TIAA and Omar Khawaja of Highmark Health
Day One: Risk Management Tips from Highmark Health, Walmart, PNC – And a Party at the Warhol
Conference Wrap: Tips on Board Reporting, Cyber Insurance Buying, CISO & CRO Relating