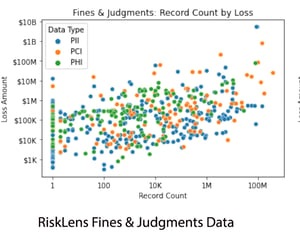 If you're still using cost-per-record as your model for loss in a data breach, you need to attend this session at the upcoming FAIR Conference (FAIRCON21):
Case Study - Accelerating FAIR™ Analyses by 10x with Industry Data, October 20, 1:15 PM, with Ben Gowan, Data Science Manager, and Justin Theriot, Sr. Data Scientist, RiskLens
Register for FAIRCON21, October 19-20, now
They will describe how research by Justin (presented at the most recent SIRAcon) on modeling probable frequency and impact of data breaches, combined with industry and proprietary data curated and prepared by the RiskLens Data Science team, can greatly speed up the data collection for FAIR analysis.
The result is not just faster time to completion but more consistent and coherent estimates, a shared approach across analysts (reducing training time) and a foundation for more advanced analysis, such as comparison assessments for the organization vs. industry norms – also, the confidence that the whole process is based on FAIR, an open standard, and transparent data sources. "It's advanced modeling with explainability," Ben says.
Get some background on Justin's research here before you attend:
RiskLens Data Science Presents Data Breach Costs Research at SIRAcon 2021