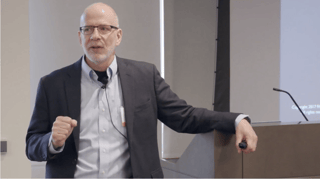 FAIR Institute Chairman Jack Jones was interviewed by Jeffrey Kutler of the Global Association of Risk Professionals for an article published on the GARP website, "Signs of Acceptance and Maturity for the FAIR Model".
The article is vintage Jack. A sample:
"A lot of people in the cyber risk technology profession are convinced that theirs is a special skill type that can't be measured quantitatively or using principles and methods that have proven effective elsewhere. The good news is that they are just flat wrong. The bad news is that they will fight tooth-and-nail to defend their position.
Again, there tends to be a lot of inertia. It varies from organization to organization. The good news here is that as more and more people open their eyes to these more mature methods, it becomes riskier to rail against them, and those barriers are beginning to break down."
Jack went on to discuss education initiatives by The FAIR Institute (including new online training and tools) and interesting case studies to be discussed at the upcoming FAIR Conference 2017 in Dallas, October 16 and 17.
Read the interview with Jack Jones in its entirety.
Related: An Executive's Guide to Cyber Risk Economics, eBook by Jack Jones.