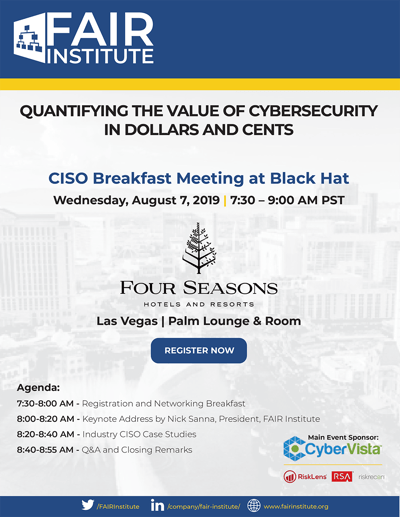 Join some of the world's leading CISOs for an engaging cyber risk discussion at Black Hat in Las Vegas, August 7, focused on enabling cybersecurity professionals to measure the effectiveness of their security initiatives and prioritize them based on business impact.

The FAIR Institute is a non-profit organization made up of forward-thinking risk officers, cybersecurity leaders and business executives. SC Media recently honored the FAIR Institute as "one of the most important industry organizations of the last 30 years."
The central mission of the Institute is to:
"Establish and promote information risk management best practices that empower risk professionals to collaborate with their business partners on achieving the right balance between protecting the organization and running the business."
The standard Factor Analysis of Information Risk (FAIR) model is the discipline, the framework, and the driver behind our mission. The model defines the necessary building blocks for implementing effective cyber risk management programs. Being able to quantify cyber risk is at the core of any such program; after all, "You cannot manage what you don't measure."
Gartner, the influential technology consulting firm, has named "risk quantification and analytics" to its list of "critical capabilities" for integrated risk management (IRM). The Wall Street Journal reports that "FAIR is gaining traction, especially among large corporations that already have experience with cyberrisk analysis."
Learn how infosecurity professionals like you are advancing the field of cyber risk management – attend the FAIR Institute breakfast at Black Hat. Register now.
CISO Breakfast Meeting at Black Hat
When: Tuesday, August 7, 2018, 7:30 - 9:00 AM
Where: Four Seasons Las Vegas
Room: Palm Lounge & Room
3960 S Las Vegas Blvd, Las Vegas, NV 89119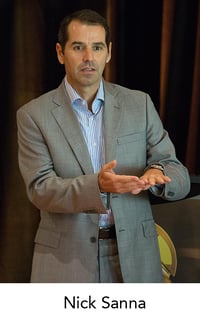 Agenda:
7:30-8:00 AM - Registration and Networking Breakfast
8:00-8:20 AM - Keynote Address by Nick Sanna, President, FAIR Institute
8:20-8:40 AM - Industry CISO Case Studies
8:40-8:55 AM - Q&A and Closing Remarks
Each attendee at the breakfast meeting will receive a FREE copy of the FAIR Book, "Measuring and Managing Information Risk: A FAIR Approach."
Thank you to CyberVista for sponsoring this event.
*This event is reserved for CISOs or heads of cyber risk management practices.
*Learn more about the FAIR Institute and the benefits of becoming a member: Get Involved.