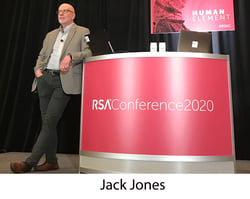 A major presence for the FAIR Institute at the upcoming RSA Conference June 6-9 with two days of training in the fundamentals of FAIR quantitative risk analysis and a morning seminar with Jack Jones, creator of Factor Analysis of Information Risk (FAIR), on the future of cyber risk measurement.
FAIR Analysis Fundamentals Training
Sunday, June 5 - Monday, June 6
9 AM – 5 PM PT
Move up from a strictly technical outlook on cyber and technology risk to communicating on risk in the business terms that your organization's leadership demands. The RiskLens Academy, the most experienced FAIR trainers in the world, will lead you through an introductory course in the foundational concepts of FAIR risk quantification, then help you apply your new skills in risk modeling hands-on. You'll be prepared to pass the Open FAIR Level 1 exam for FAIR certification, an increasingly valuable milestone for career advancement in security and risk management.
---
Luke Bader is Director, Membership and Programs for the FAIR Institute
---
The Future of Cybersecurity Risk Measurement
Seminar with Jack Jones
Wednesday, June 8
8:30 AM - 12:30 PM PT
Moscone South 301-302
Open to All Pass-holders
Spend the morning with one of the most original thinkers in the security and risk fields, a pioneering advocate for a quantitative, business-aligned approach to cyber risk at industry conferences and in his writing (including the FAIR book, Measuring and Managing Information Risk), first as a lonely voice against conventional wisdom that cyber risk could not be understood in financial terms – now as a respected thought leader who is reshaping the risk management and security professions. Jack continues to push the envelope on risk measurement, recently introducing the FAIR Controls Analytics Model (FAIR-CAM™) that for the first time enables a quantitative approach for reliable analysis of the effectiveness of controls and controls systems. Learn about FAIR-CAM and more developments that are shaping your professional future in this session with Jack.
If you have any questions about our RSAC 2022 events, please reach out to me at lbader@fairinstitute.org. See you at the conference!