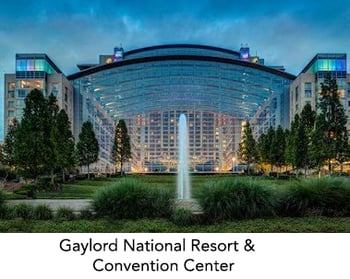 We're looking forward to seeing you – and the rest of the worldwide FAIR community of innovative thinkers and doers in the fields of cyber, technology and operational risk – Tuesday and Wednesday of next week, September 24 -25, at the 2019 FAIR Conference, Gaylord National Resort & Convention Center, National Harbor, MD, near Washington, DC. A few seats are still available: Register now!
The agenda for FAIRCON19 is much more extensive than previous conferences, including tracks for beginner and advanced FAIR practitioners, and is riding an even bigger wave of enthusiasm and acceptance of quantitative cyber risk analysis than last year.
Just last week, the National Institute of Standards and Technology added a FAIR component to the NIST CSF, the most widely used cybersecurity framework in American business, and praised as a "success story" the integration of the CSF with FAIR by Cimpress. FAIRCON19 is on top of it, with a session titled "Building a Cybersecurity Program with a Risk Management Framework and FAIR," featuring Kevin Stine, Chief of the Applied Cybersecurity Division of NIST, and Ian Amit, CSO of Cimpress.
Attendees will also hear from
John Wheeler of Gartner on using FAIR to achieve Integrated Risk Management
Rep. Jim Langevin, founder of the Congressional Cybersecurity Caucus
Douglas Hubbard, author of How to Measure Anything
Jack Jones, creator of the FAIR model
Emery Csulak, CISO, US Department of Energy
And FAIR experts from Walmart, Bank of America, Fidelity, Daimler and more.
Just a sampling of session topics, chosen to send you home with actionable knowledge:
Pen Testing Your Board Pitch: An Interactive Exercise
Am I Mature Enough to Adopt FAIR? Uncovering the True Success Factors
A Crash Course on Qualitative vs. Quantitative
Managing Third Party Risk in the Age of Digital Transformation
The agenda is loaded with many networking breaks, so you'll have an opportunity to share hands-on experiences and build contacts among your peers. The job titles on the registration list include a wide range of business, operations, technical and risk/compliance executives, such as,
VP - Technology Risk
VP-Chief Solutions Architect
SVP-CISO
Director-ERM
Security Vulnerability Engineer
Mgr. Risk Assurance
Software Engineer
The FAIR Conference is also a great opportunity for formal, onsite FAIR Training before the main event begins Tuesday morning. A few seats are still available for the sessions on Sunday, September 22, and Monday, September 23, for the FAIR Analyst Learning Path course (the Fundamentals course is sold out), taught by experienced FAIR consultants and trainers from the RiskLens Academy. Learn more about the FAIR training sessions at FAIRCON.