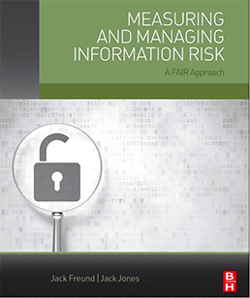 Know how to carefully QA a FAIR quantitative risk analysis, double-checking your inputs for magnitude and frequency? Know how to draw an estimate out of a reluctant SME? How about how to model controls - MFA vs DLP and the rest?
This week in our reading of the FAIR book, Measuring and Managing Information Risk, we learn some expert techniques for successful quantitative risk analysis from Chapter 10 (Common Mistakes) and Chapter 11 (Controls). Follow the chapter study guides to keep your group's discussions productive.
Download the Guide to Chapters 10 and 11
We are also hosting a discussion board in LINK, the FAIR Institute's community site, for further discussion or posting of questions – FAIR experts and community members will answer. (A FAIR Institute membership and signup for LINK is required to access the discussions. Turn your notifications on in your LINK profile settings to make sure that you receive updates to the discussions.)  Visit the FAIR book discussion board. 
Speaking of learning opportunities – The 2021 FAIR Conference is coming, October 19 & 20.