The FAIR standard is gaining recognition as a proven model for quantifying risk in financial terms, dollars and cents. It has been cited by NIST as a resource to complement the Cybersecurity Framework. In addition, three Federal agencies have directly cited FAIR as a model for quantifying cyber risk in proposed regulations that might direct large banks to quantify their risks. Despite the recognition, it is important to know where to start when taking the journey to becoming a FAIR risk practitioner.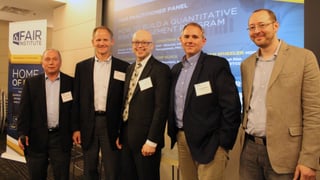 In this video from FAIR Conference 2016, viewers will hear how five FAIR practitioners from major software and financial institutions began the FAIR journey and are changing the way their organization thinks about risk:
Evan Wheeler, VP of Operational Risk Management at DTCC

Steve Reznik, Director of Operational Risk Management at ADP
Jack Freund, Sr. Manager Cyber Risk Framework at TIAA
Chip Block, VP Evolver
Jonathan Beck,

SVP-Director, Infosec Risk Mgmt. at PNC Bank
The journey of a thousand miles begins with a single step. Will you take the journey to become a FAIR practitioner. Watch the video today!