In 2016, understanding cybersecurity risk was listed as one of the top 3 priorities for board of directors. This is a major development: for years risk experts had talked about the need for boards to start fulfilling their governance roles as it pertains to cyber risk. Apparently, it is now starting to happen in many companies.
GARP Risk Professional Magazine Editor-in-Chief, Jeffrey Kutler, covered this sentiment in a thought-provoking closing keynote presentation. Viewers will learn about: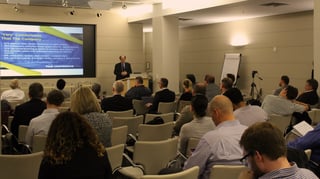 The gap in confidence between IT and the board
How boards are establishing priorities in rapidly changing economic climates
How comfortable and engaged boards and risk management teams are in safeguarding their organizations
After Jeffrey Kutler's presentation, both Kutler and Jack Jones fielded further questions on the state of risk management today in major enterprises and the application of the FAIR model as a potential solution to helping directors understand IT risk.