At the 2018 FAIR Conference at Carnegie Mellon University in Pittsburgh yesterday, the FAIR Institute announced the winners of the annual FAIR awards honoring three leaders in cyber and operational risk management and security for their roles advancing business-aligned and data-driven cultures in their organizations and the profession. The awards were presented by Mark Coderre, Global Head of Risk & Compliance at TUV OpenSky's Digital Transformation division, along with Jack Jones, Chairman of the FAIR Institute.
---
Read the news release: The FAIR Institute Announces Winners of Annual Excellence Awards at FAIRCON 18 at Carnegie Mellon University in Pittsburgh
---
The winners in the three categories are:
FAIR Champion Award: Jack Freund, Director of Cyber Risk at TIAA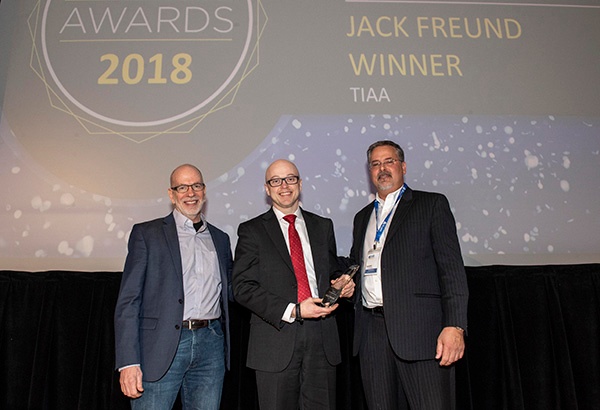 Honoring another Institute member for leading organizational change by integrating FAIR deep into business practices and decision making, as well as evangelizing for FAIR through engagement in the risk management community, the award went to a well-known figure in the FAIR world—Jack is co-author with Jack Jones of the FAIR book, Measuring and Managing Information Risk, and a frequent speaker at industry events, educating on quantitative risk analysis.
Read Jack's blog posts for the FAIR Institute
Business Innovator Award: Omar Khawaja, CISO at Highmark Health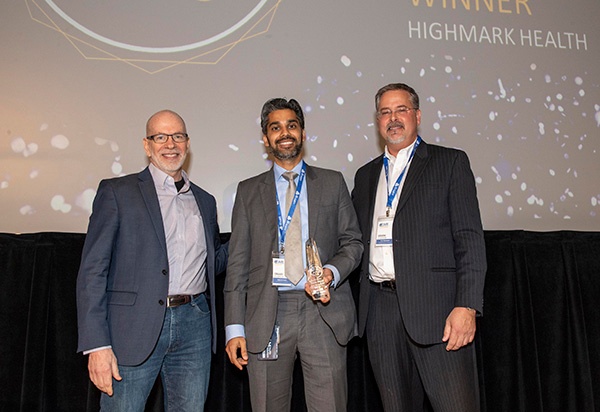 Honoring a member for leading the transition from compliance-based to risk-based approaches to information and operational security, communicating risk to the board and the business to empower effective decision-making and placing risk management firmly in the context of enterprise risk management, this award recognized Omar for his high-powered and comprehensive program to introduce FAIR to the complex world of health infosecurity.
Read an interview with Omar Khawaja
FAIR Ambassador Award: Jason Ha, Director of the Digital Trust Risk Assurance Practice at PwC Australia
Honoring a FAIR Institute member for bringing FAIR and the Institute to a new part of the world, the award went to Jason for his work in developing the FAIR community and opening the FAIR Chapter in Australia and working with the Australian government to include risk quantification in regulatory requirements. (Jason was unable to attend the ceremony.)
Read an interview with Jason Ha
"Jason, Omar and Jack exemplify the best in risk management and are some of the most forward-thinking and active members of the FAIR Institute community," FAIR Institute Chairman, Jack Jones, said. "We are thrilled to recognize their many contributions to advancing the field of risk management through a broader understanding and adoption of the FAIR standard." The FAIR Institute congratulates Jason, Jack and Omar for their well-deserved awards, as well as the other finalists. See the complete list of the finalists.
Read more:
FAIRCON 18 Keynote: Jack Jones Leads the Way to 'The Next Frontier in Risk Management'
FAIRCON 2018 Day One: Risk Management Tips from Highmark Health, Walmart, PNC – And a Party at the Warhol
FAIRCON 2018 Wrap: Tips on Board Reporting, Cyber Insurance Buying, CISO & CRO Relating