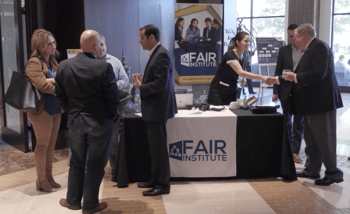 Join us for the 2018 FAIR Conference – and join the risk revolution that's empowering business and technology leaders to understand cyber and operational risk in financial terms that drive business decision-making. The premiere annual conference for risk executives takes place on October 16 & 17 at Carnegie Mellon University in Pittsburgh, PA.
At FAIRCON18, attendees will learn the best and newest practices for using FAIR and Cyber Risk Quantification in their organizations.
Over the course of the conference, attendees will gain many insights from new breakout sessions, dynamic keynote speeches, and expert panels–plus plenty of networking time to learn from peers.
---
See the FAIRCON 18 Agenda
---
FAIRCON18 sessions will include:
Conference Keynote: The Next Frontier in Risk Management by FAIR Institute Chairman, Jack Jones
Case Study Presentation from Omar Khawaja, CISO at Highmark Health
Keynote Address: A Risk Committee Chair's View of ERM and Cybersecurity Oversight by James Lam, Director, Chairman of the Risk Oversight Committee, E*TRADE Financial
CISO Panel: Shifting the Discussion to Cost-Effective Decision Making with panelists from Fannie Mae and Walmart
Executive and Practitioner Breakout Sessions
Cyber Risk Management, Cyber Insurance, and Operational Risk Workgroup Breakout Meetings
See, hear, and share the benefits of last year's FAIR Conference with our highlight video below:
Can't make the pre-FAIRCON18 training sessions? Prepare for FAIRCON18 with online FAIR Training! Now through the end of August, FAIR Institute Members qualify for a Summer Discount on Online FAIR Training, offered by Technical Advisor, RiskLens. For more information, please contact lbader@fairinstitute.org.
---
Did you know?
FAIR Institute membership has passed 3,000
Gartner has endorsed risk quantification as a critical capability of integrated risk management