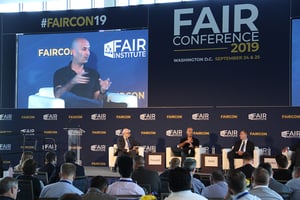 The FAIR Institute is dedicated to encouraging the community to focus on innovation, education and sharing of best practices to advance the FAIR™ cyber risk model and the risk management profession.
Over the past four years, the Institute has grown to over 8,600 members worldwide, and we are excited to continue educating on better risk management practices through risk quantification.
Joining the Institute gives you instant access to a global network of like-minded risk professionals working to implement FAIR at their organizations. It also grants you exclusive access to our vast and ever-growing Resource Library, member discussion boards, Local Chapter Meetings, and more.
We are excited to announce a revamp of our current membership tier structure to encourage individual member engagement, to provide enterprise-level memberships, and to fund the start of new initiatives.
The full details of the new tier structure are below and on our Get Involved page. We are looking forward to welcoming new members!
---
With this year's FAIRCON2020 happening virtually, all Institute members get to register for free! Apply for membership today to get access to the premiere risk management conference on October 6 & 7.
---
New Membership Tiers
There are various criteria for determining FAIR Institute membership level, as outlined below.
General Member: This free level of membership is open to any business, risk, or technology practitioner aiming to improve their knowledge of FAIR. General Membership is open to people from all industries and from organizations of all sizes.
Charter Member: Charter Membership includes extra perks like additional discounts to FAIRCON, early access to the Annual Risk Management Maturity Survey Report, and a free copy of the FAIR book Measuring and Managing Information Risk: A FAIR Approach. It can be achieved in three different ways:
General members seeking a higher status can pay a one-time $150 fee to upgrade their membership to the Charter level.
Qualified individuals who are C-level officers at organizations with greater than $10M in overall IT Security budget, can apply for Charter Membership for free.
Enterprise Membership Program (EMP): The EMP benefits your organization by providing a cost-effective and convenient way to train your cybersecurity and risk management teams and assess the maturity of your risk management program. Each of the different levels of Enterprise Membership packages bundle Institute training resources into group discounts for any size risk management team. To learn more and apply, please visit the Enterprise Membership Program page.
Note: Sales, marketing, or business development executives are not eligible for FAIR Institute Membership but are eligible to become a sponsor.