FAIR Conference 2023
FAIR Institute Award Winners Announced at 2023 FAIRCON Honoring Excellence in Cyber Risk Management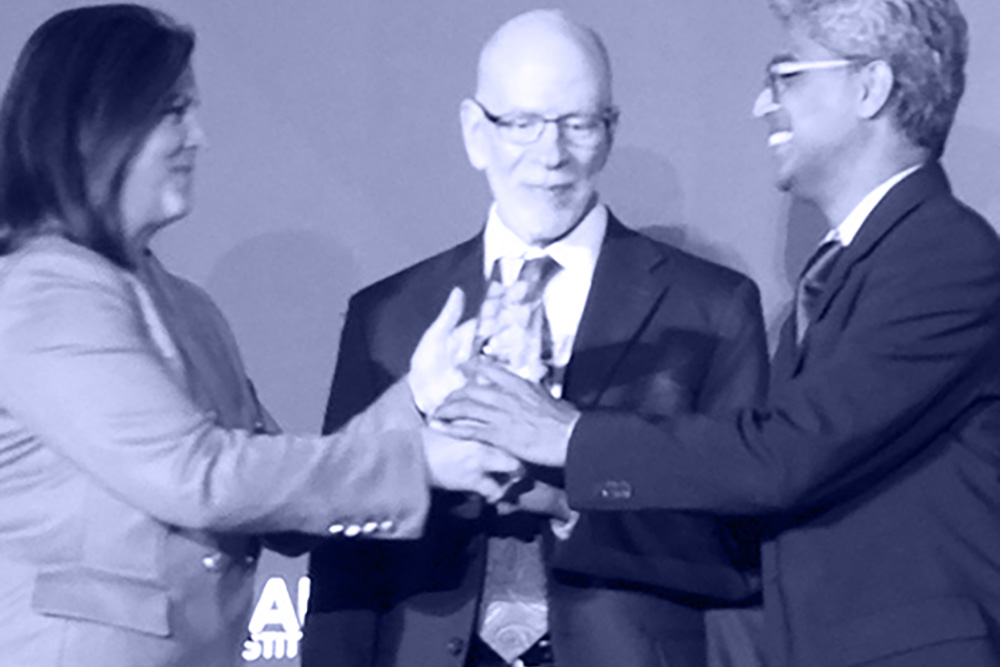 Reston, VA, Oct. 18, 2023 – The 2023 FAIR Conference on Cyber Risk Quantification (CRQ) hosted by the FAIR Institute, a research-driven not-for-profit organization advancing risk management based on Factor Analysis of Information Risk (FAIR™), the global standard for quantified risk analysis, today announced the finalists and winners of the FAIR Institute Awards program.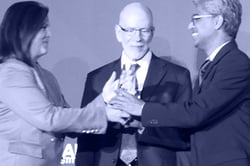 Hundreds of CISOs, business, and cybersecurity risk management leaders attended the conference, including Capital One, Fannie Mae, SEC, Rolls-Royce, and Mastercard, as industry leaders shared their insights into how organizations can securely leverage digital transformation and artificial intelligence to provide better products and services to their customers through effective cyber risk management.
The awards recognize these professionals' impact on their organizations by enabling operational excellence and effective decision-making and balancing the need to protect their organizations while running the business.
For 2023, three awards have been bestowed on industry leaders by the FAIR Institute: the Business Innovator Award, the FAIR Ambassador Award, and the FAIR Champion Award. Nominations were reviewed, and a panel of FAIR Institute Advisory Board members selected the winners.
Business Innovator: Ted Webster, Chief Security & Risk Officer, Centene
The Business Innovator Award salutes risk professionals who have successfully applied FAIR principles to drive innovation.
Taking this year's award is Ted Webster, the Chief Security and Risk Officer of Centene.
Business innovator finalists were Scott Dresen, CISO, Corewell Health, and Matej Zachar, CISO, Kontent.
FAIR Champion: Krishna Sheshabhattar, Director, Security Risk, Expedia
The FAIR Champion Award honors leaders at the forefront of their organization's FAIR initiative who get data owners on board, stakeholders to help improve analysis, and decision-makers to adopt resulting analytics integral to their strategies, decision-making processes, and operating rhythms.
Krishna Sheshabhattar, Expedia's Director of Security Risk, won this year's award.
FAIR Champion finalists are Rob Immella, Global Leader of Cyber Risk Quantification, Caterpillar, and Rebekka Kurland, Cyber Security Risk Manager, Maersk.


FAIR Ambassador: Mohamed Abdul Rahim & Adham Etoom, Co-Chairs, Jordan Chapter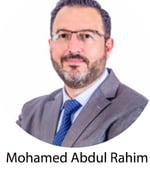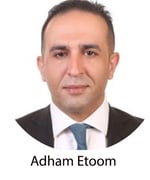 The FAIR Ambassador Award recognizes a member's work bringing FAIR knowledge and the FAIR Institute to a new geography or industry.
The 2023 FAIR Ambassador winners are the Co-Chairs of the Jordan Chapter, Mohamed Abdul Rahim and Adham Etoom.
Award finalists were Denny Wan, Co-Chair Sydney Chapter, and Michael Radigan, Co-Chair Ohio Chapter.
The 2023 FAIR Conference featured welcome remarks from Nick Sanna, Founder of the FAIR Institute and President of Safe Security (SAFE), with main insights from the new annual cyber risk report alongside David Burg, Cybersecurity Leader, EY.
General membership to the FAIR Institute is free, and contributing members benefit from viewing replays of all FAIRCON23 session videos at no cost once posted. To register for membership, please apply here: https://www.fairinstitute.org/get-involved-apply-today.
About the FAIR Institute
The FAIR Institute is a research-driven not-for-profit organization dedicated to advancing the discipline of cyber and operational risk management through education, standards and collaboration. The driver behind our mission is the breakthrough achieved by FAIR™, the risk taxonomy and quantification standard, key to effective risk management.
Its members - forward-thinking risk officers, cybersecurity leaders and business executives - now exceed 15,000 in over 100 countries, with representation of 50% of Fortune 1000. The FAIR Institute has been recognized by SC Media as one of the three most influential industry organizations of the last 30 years.
To learn more and get involved, visit www.fairinstitute.org.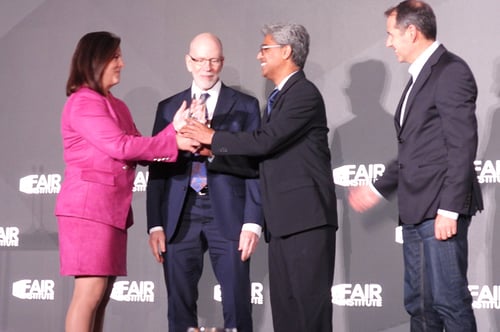 Krishna Sheshabattar receives the FAIR Champion award from Mary Faulkner of Thrivent, Jack Jones and Nick Sanna of FAIR Institute.
Media Contact:
Danielle Ostrovsky
Hi-Touch PR
410-302-9459