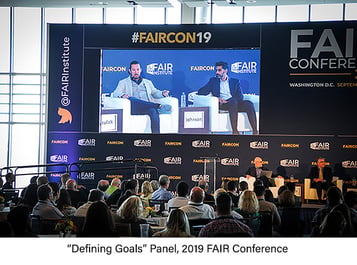 In under 15 minutes, watch this webinar and learn about the FAIR™ model, the open-source standard for cyber and operational risk quantification, and the FAIR Institute, the international community that's leading the risk management profession toward business-aligned and cost-effective risk management.
Just four years old, the FAIR Institute is nearing 10,000 members, with 23 chapters around the world, and members representing more than 40% of the Fortune 1000. The annual FAIR Conference (held virtually Oct. 6-7, 2020 – this year, free to members) has emerged as the premiere event for thought leadership in the risk management space. And professional standards-setting bodies, such as NIST and COSO, are increasingly recommending FAIR and risk quantification. What we hear most often from new members joining the Institute is that the risk management profession has hit an inflection point, and the old ways of qualitative, ad hoc analysis simply won't cut it anymore.
In this webinar, Institute Memberships and Programs Director Luke Bader, will walk you through the many aspects of the Institute, including:
Membership onboarding – it's free to qualified risk management and business professionals, and our outreach team, the FAIR Enablement Specialists will contact you to make sure you are fully supported as you start
Education and training – the Institute offers both formal training in FAIR risk analysis techniques and ongoing educational events such as webinars and the FAIR Conference. The LINK member resources zone also offers a full range of FAIR educational materials, such as webinars and white papers and the FAIR Institute blog covers current topics of interest to FAIR practitioners,
Networking – Through the LINK discussion boards, members seek advice and share best practices among a global community of like-minded professionals. Through the 23 local chapters, they connect with FAIR professionals in their regions.
---
Start building your career on the cutting edge of cyber and operational risk management - Join the FAIR Institute now!