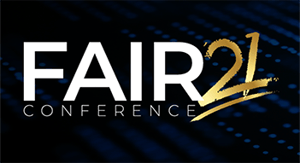 The 2021 FAIR Conference will shift from a hybrid conference to a fully virtual event on the same schedule, October 19 and 20. Although the FAIR Institute team was excited to offer an in-person conference this year, our decision was to put the health and safety of our members and attendees first. FAIRCON21 will still offer a very full agenda, as we did with last year's virtual FAIRCON20, attended by a record 2,000.
Join us on October 19 and 20 for over two dozen sessions focused on managing risk, building resilience, engaging with your Board and many more need-to-know topics presented by the thought leaders in cyber and operational risk management. As a highlight, FAIR™ creator Jack Jones will be releasing the much anticipated FAIR Controls Analytics Model (FAIR-CAM) that promises to re-shape how we all think about measuring controls effectiveness and risk.
---
Members: Register by Oct. 1 for free tickets to FAIRCON21!
---
The conference will be free for FAIR Institute members who book their tickets by October 1. The non-member fee will be $150 before October 1 and $200 from October 2 through FAIRCON21. After October 1, FAIRCON21 will be $50 for Contributing Members and $100 for General Members.
If you are already registered for the conference, your registration stays confirmed and you will not need to re-register. For FAIR Institute members, your ticket cost will be refunded within the next 7-10 business days. Non-member tickets will be refunded to the appropriate amount of $150 for a non-member virtual ticket.
Don't miss the premiere global risk management conference. Register right away to reserve your free seat at FAIRCON21!