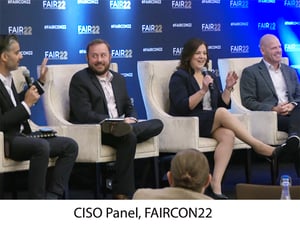 Organizations are undergoing profound change as they consider taking further advantage of digital transformation, moving critical business services to the cloud, and leveraging artificial intelligence to provide better products and services to their customers. They need to factor in the risks associated with those initiatives, and learn how to meet the new disclosure requirements from regulatory authorities that are supposed to keep them and their customers safe in the process.
How can businesses and government organizations achieve the right balance between maximizing the business potential of those initiatives, while keeping the business compliant and maintaining an acceptable level of risk? What risk management practices are needed to support the organization's strategic business initiatives? These are the questions driving the agenda of the 2023 FAIR Conference (FAIRCON23).
The theme for FAIRCON23 is Embrace Digital | Managing Digital Transformation, Cloud, and AI Risk.
Take the Stage at the FAIRCON23
Be a part of the 2023 FAIR Conference at the Fairmont Hotel in Washington, D.C., on October 17 & 18. Calling all industry thought leaders to share insights, experience and to suggest topics for the premier risk management conference bringing together forward-thinkers in the cyber and operational risk management space.
Raise your hand and let us know that you are interested in joining our expert speakers presenting in multiple session formats. We welcome you to apply for consideration by COB Friday, April 30, 2023.
To be considered, potential speakers and panelists must have experience with FAIR principles and propose compelling speaker proposals on the topics such as:
Practitioner tracks
Using FAIR analyses to support strategic technology and business initiatives (digital transformation, cloud migration…)
Uncovering insights through risk quantification that enable risk-informed decision making
Building a FAIR-based risk management program
Assessing emerging risks (Quantum computing, Artificial Intelligence…)
Integrating controls and risk management
Executive track
Getting organizations ready for new regulatory requirements on cyber risk
Promoting culture change to embed risk in corporate governance and decision-making
Improving governance of cyber and operational risk
Reporting risk to the board
Evolving towards a risk-based cybersecurity budgeting process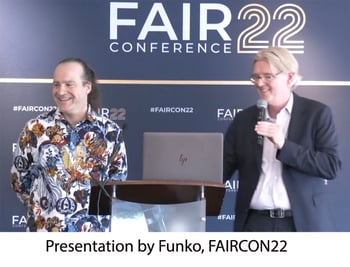 Selected speakers will receive a free ticket to the entire conference, including all agenda tracks, networking and social receptions, and CPE credits.
If selected to speak, final presentations, including all relevant case study materials, must be submitted by Friday, August 25, 2023.
How to Apply
Email us by April 30 with your name, a brief bio, and contact information, along with a short summary of what you would like to speak on at FAIRCON23. Please include "FAIRCON23 Speaker Application" in your email's subject line. We will notify you if you have been chosen to participate as a FAIRCON23 speaker.
Thank you for taking the time to share your experience and wisdom with the wider cybersecurity and operational risk management community. Your commitment to the advancement of others is what strengthens the professionals in our industry.
Register for FAIRCON23, the premiere risk management conference
October 17-18, Washington, DC