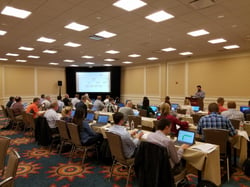 An exciting lineup of training opportunities at the 2023 FAIR Conference (FAIRCON23), in Washington, DC, in October, from our accredited Open FAIR™ certification course, FAIR Fundamentals, up to the leading-edge concepts of the FAIR Controls Analytics Model (FAIR-CAM™) taught by the FAIR-CAM man himself, Jack Jones – plus another star of the risk management world, Doug Hubbard, author of the classic How to Measure Anything, teaching risk calibration.
To attend a training, purchase a conference ticket then select your training options to add to your conference fee. Attend the Monday morning lab, Scoping AI Risks with FAIR, and get 10% off the afternoon lab with code "10DISCOUNTLABS."
Here is the lineup for the training days, Sunday and Monday, October 15 & 16 (preceding the main conference sessions, October 17 & 18).
---
FAIR Analysis Fundamentals Training
Sunday & Monday, October 15 & 16, 9 AM - 5 PM (both days)
The syllabus for the 2-day training includes:
Day 1
Why FAIR for Risk Management
The Current Risk Communication Challenge
Basic Risk Concepts
Shared Risk Language (FAIR Terminology)
Measurement Concepts with FAIR
Day 2
Risk Analysis Process
FAIR Results Interpretation
Case Study Workshops
The Open Group accredits this course. Upon completing the 2-day training, participants will receive an exam voucher for the Open FAIR™ certification and 16 CPEs.
---
Calibrated Probability Assessments for Cybersecurity with Doug Hubbard, President, Hubbard Decision Research
Monday, October 16, 9 AM - 5 PM (8 hours)
Build your skills in estimation even with little or no data. Includes personal calibration exercises and advanced calibration techniques. More on calibrated estimation for FAIR risk analysis.
---
Workshop: Through the FAIR-CAM Looking Glass with Jack Jones
Monday, October 16, 1-5 PM (4 hours)
Jack says "In this first-ever workshop, participants will wade into some fairly deep waters to understand how the control landscape actually works, and how it can be measured. In order to ensure that nobody is left behind on this adventure, participants need to be FAIR certified. Critical thinking will be required."
Upon completing the course, participants will receive a Certificate of Completion with 4 CPEs.
---
Morning Lab: Scoping AI Risk with FAIR
Monday, October 16, 8 AM - 12 PM (4 hours)
Includes:
Understanding AI's Impact on an Organization
Scoping AI Risks for FAIR Analysis
Identifying Data Resources for Measuring AI Risks
Hands-on Lab Experience in Running AI Risk Analyses
Practice Presenting Analysis Results
Upon completing the course, participants will receive a Certificate of Completion with 4 CPEs.
Afternoon Lab: Communicating FAIR Results to Executive Stakeholders
Monday, October 16 from 1 PM - 5 PM (4 hours)
Includes:
Understanding FAIR Metrics (Most Likely vs. Average, Forecast vs. Prediction, etc.)
Identifying the Different Needs of Stakeholders
Story-telling with Data
Practice Presentations
---
---