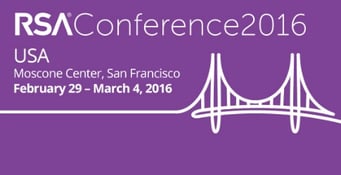 Don't miss the exciting opportunity to learn how to improve your information risk management program directly from the author of FAIR, Jack Jones.

Jack will lead a presentation on March 2nd, followed by a group discussion on the same day, and will participate in thought-provoking panels with other industry experts on March 3rd and March 4th. You can find full details below.

---
'How Infosec maturity models are missing the point' (STR-W04)-presentation
Scheduled Date: 03/02/2016 - 10:20 AM - 11:10 AM
Infosec maturity models abound, and although they provide some value, they completely ignore fundamental elements that ultimately determine whether an infosec program is mature -- or not. In this session Jack will share what those missing elements are, why they are so critical, how to gauge maturity in those dimensions, and the steps you can take to help make your organization more mature.
---
Group Discussion on 'How Infosec maturity models are missing the point'
Follow-on Discussion: 03/02/2016 - 4:30 PM- 5:20 PM
Continue the 'How Infosec Maturity Models Are Missing the Point' conversation in a smaller group discussion and Q&A with the presenter. This session will be discussion based—no new slides will be presented. This session is limited to 50 attendees, so sign up now!
---
'Habits of an Effective CISO' (GRC-R02)-panel discussion
Scheduled Date: 03/03/2016 - 8:00 AM- 8:50 AM
With less time and more responsibilities, how does an effective CISO manage? Three leading CISOs will share their strategies for success.
Moderator:
Ben Rothke, Senior eGRC Consultant, The Nettitude Group
Panelists:
Phil Agcaoili, Chief Information Security Officer, Elavon
Roland Cloutier, VP & CISO, ADP, Inc.
Jack Jones, EVP Research & Development, RiskLens
---
'Aligning and Prioritizing Risk Efforts Across the Enterprise' (GRC-F03)-panel discussion
Scheduled date: 03/04/2016 at 11:20 AM- 12:10 PM
The responsibility for managing risk rests in many parts of the organization. Unfortunately, very often these efforts are redundant or contradictory. In this session, learn how these groups can work together to minimize confusion and "religious" debates in order to better evaluate risk and prioritize in a consistent, efficient, and aligned manner.
Facilitator:
Jack Jones, EVP Research & Development, RiskLens
Panelists:
Maria Shaw, VP, IT Risk Management, McKesson
Tess Martillano, MD, IRM Enterprise Services & CIRO, Latin America & the Caribbean, BNY Mellon
Evan Wheeler, Executive Director, Operational Risk Management, DTCC