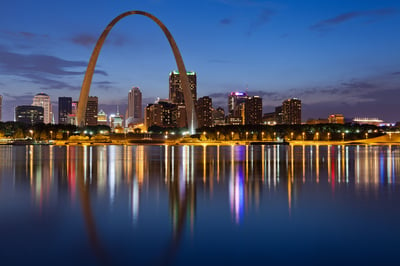 Welcome the St. Louis Chapter to the FAIR™ Institute, with a kickoff meeting on March 10, thanks to the organizational efforts of Co-Chairs Nathan Thomack, Manager of Cyber Risk Management at Emerson, and Nick Corzine, Manager of Quantitative Risk Analysis at Centene. "We had an unofficial soft launch a year ago to see if there was interest in the community," Nathan says. "What we found is more and more people in the St. Louis region adopting FAIR and it was time to make it more official."
"There are a lot of companies here looking to improve what they are doing in the risk management space," Nick agrees.
---
Click to join the St. Louis Chapter (FAIR Institute membership required).
---
Nick formerly worked with Nathan at Emerson on FAIR, and both are on their second rounds of introducing FAIR to organizations and have seen the benefits of spreading the word on the quantified approach to risk. "At Emerson, we have very broad, complex, diverse environment and FAIR has allowed us to provide value by unifying the language that we speak," Nathan says.
Nick adds "Not only the information security industry, but many other areas are struggling with the ability to put some science and math behind how they are actually making decisions…So there's a lot of opportunity to adopt something that makes sense not only for cyber but for companies in general."
---
Related: 2019 FAIR Institute Growth Leads to the Launch of Three New Local Chapters
---
Nathan wrote about FAIR adoption in a recent blog post for the FAIR Institute on "what to expect in your FAIR journey" and spoke on the same topic at the 2019 FAIR Conference (see the video: Various Stages of FAIR Adoption).
Hear more from Nathan and Nick in this Meet the Members Podcast:
Related: Meet More FAIR Institute Members