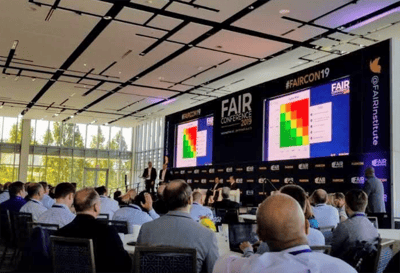 Mark your calendars today! The FAIR Institute's annual FAIR Conference (FAIRCON20) will take place this year on October 6-7, 2020 in Washington, D.C., at the historic Washington Marriott Wardman Park.
Building on the success of the 2019 conference, attending FAIRCON20 will give you access to 700 of your peers all working to continue the mission of developing better risk management practices through the adoption of the FAIR™ standard quantitative risk model.
The agenda sessions will be filled with industry leaders and experts giving actionable presentations on their work with FAIR and how a quantitative risk management program empowers you to:
Justify your budget and show return on investment on security projects
Assess risk in financial terms to better communicate to the Board
Meet a growing number of regulatory pressures
Prioritize risk mitigation activities at your organization
Check out our agenda sessions from FAIRCON19 on FAIR Institute LINK here: FAIRCON19 Session Videos. You must be a FAIR Institute member to access the videos and you can apply for membership here: Get Involved.
Missed last year's conference? Watch our FAIRCON19 closing video below to get a preview of the action for the 2020 conference!
Don't miss your chance to listen to thought-provoking presentations from industry leaders, witness engaging panel discussions and network with other FAIR Institute members. For the third year in a row, we will begin our conference week to include an optional add-on of valuable on-site FAIR training courses on October 4 & 5.
More information is to come via the FAIR Institute events page and registration will open soon. Luckily, you don't have to wait until October to share your excitement; Use the hashtag #FAIRCON20 on social outlets to let us know you're planning to be there, and feel free to tag our handle on Twitter: @FAIRInstitute.