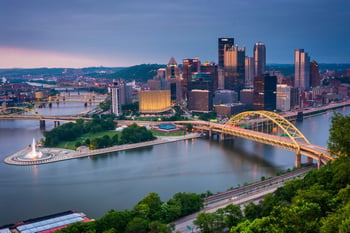 The leading edge of operational and cyber risk management runs through Pittsburgh next week, at the 2018 FAIR Conference, Tuesday and Wednesday, October 16 and 17. The conference at Carnegie Mellon University is drawing thought leaders and practitioners of quantitative risk analytics from around the world, and across the risk and security disciplines.
Titles on the attendees list include:
CISO
CRO
VP Technology Risk
VP Global Information Security
IT Governance and Compliance Analyst
Security Operations Manager
and many more, from organizations in finance, health, manufacturing, aerospace, technology, energy, logistics, government and academia.
---
Visit the FAIR Conference 2018 home page for conference details, agenda and registration.
---
The conference sessions are geared toward providing hands-on solutions to meet the most pressing needs of the profession, such as...
Presenting to the board
Estimating ROI of cybersecurity
Winning budget for security projects
Buying cyber insurance
Meeting regulations
...with presentations by experienced FAIR hands from respected security and risk officers at Cisco, Walmart, ADP, Highmark Health, Marsh, Ascena Retail, Charles Schwab, among others.
Look to FAIR Institute Chairman and FAIR model creator Jack Jones to show where cyber and ops security is all heading with his keynote "The Next Frontier in Risk Management."
Beyond the presentations and formal discussions, the hallways will be buzzing with networking opportunities, to be continued at the Tuesday night party at the Andy Warhol Museum.
If you haven't yet signed up for FAIRCON18, click that "register" button below -- This is the last chance to secure one of the very few seats left.