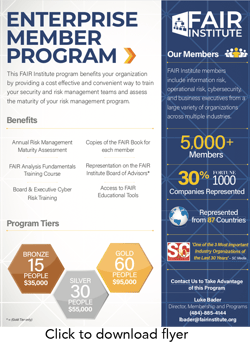 To provide a more convenient way to train your organization on risk quantification and assess the maturity of your risk management program...
The Enterprise Membership Program has been designed and created to provide group benefits to Institute member organizations. Instead of leaving it solely to the initiative of individual members to get trained on FAIR and assess the maturity of risk management practices, we have worked with the Institute's Technical Advisor RiskLens and the Sponsoring Partner CyberVista to bring resources in bulk to organizations as a whole.
This program brings value to your organization by providing a cost-effective and convenient way to train your security and risk management teams and assess the maturity of your risk management program.
The main outcome of using this program to onboard many people at once, is that it can successfully align your risk and management teams to have everyone speak in one language about risk, the financial one. The benefit of educating larger groups of people at the same time is to create a unifying force that can unlock your organization's potential for developing a robust approach to risk quantification.
Each of the different levels of Enterprise Membership packages bundle Institute training resources into group discounts for any size security and risk management team.
Benefits Include:
One-time Risk Management Maturity Assessment
Online FAIR Analysis Fundamentals Training Course
Board & Executive Cyber Risk Training
Copies of the FAIR Book
Representation on the FAIR Institute Board of Advisors (select tiers)
Access to many FAIR Educational Tools