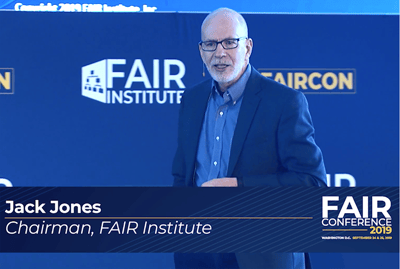 The Agenda is out for RSAC 2020 -- and visibility for FAIR™ and the movement to standardize cyber risk management on the financial quantification of risk will hit an all-time high at the big cybersecurity show.
Mark Feb. 24-28 in San Francisco as a watershed moment for FAIR.
For starters, RSAC named FAIR among one of the top ten trends in cybersecurity, based on the 2,400 speaker applications for this year. The RSAC 2020 Trend Report's #7 trending theme "Frameworks, Frameworks, Frameworks" covered FAIR and the NIST CSF (which this year added FAIR to its recommended resources).
RSAC commented, "The continued development and application of these frameworks—and the further mushrooming and morphing of more each year—appears to be driven by a desire for more efficient governance and improved risk management. Yes, risk management is the thread that binds all of these trends in some way, shape or form."
And this year, the conference is affording an unprecedented two half-day sessions to FAIR education, led by FAIR model creator and FAIR Institute Chairman Jack Jones. The February 24 sessions "will provide clarity on why the industry is evolving toward quantitative methods, as well as the challenges and practical solutions for leveraging these methods. The emphasis will be on gaining a pragmatic understanding of why, how, and what to avoid," as the agenda says. Get the FAIR RSAC session details.
For hands-on training in doing FAIR analysis, sign up for Live FAIR Fundamentals Training Course pre-RSAC2020, February 23 – 24. Led by FAIR experts from our technical advisor, RiskLens, this workshop-style course will walk analysts through a foundational introduction to FAIR's core principles and enable measurement of risk associated with scenarios of all types.
Learn more about FAIR, and meet FAIR practitioners at the FAIR Institute's Breakfast Meeting during RSAC February 26, 2019, 7:30 - 10:30 AM: Building an Effective Cyber Risk Management Program that Actually Works.
Back on the RSAC stages, catch these FAIR advocates for more tips and insights on the risk quantification movement:
Emery Csulak from Department of Energy and Cody Scott from NASA (co-chair of the Federal Government Chapter of the FAIR Institute), February 25 at 2:20 PM appear on the panel Speaking to Executives: Implementing Quantitative Risk in Cyber-Programs. Emery created a lot of buzz at the recent FAIR Conference, appearing on the CISOs panel (watch the video).
Jack Freund, co-author of the FAIR book Measuring and Managing Information Risk, and Risk Science Director at RiskLens, will give a talk on Maturing Cyber-Risk Management Practices: Framework and Next Steps, February 27, at 8:00 AM, covering how to "improve visibility, operational and strategic decision support, and automation" with a quantified approach.
Steve Reznik, Director Operational Risk Management at ADP, will present What's in Your Risk Assessment?, February 27, 1:30 PM – he's one of the most knowledgeable and most entertaining FAIR experts around. Steve will be joined by Allison Seidel, Senior Risk Specialist, PNC Bank.
See you at RSAC 2020!