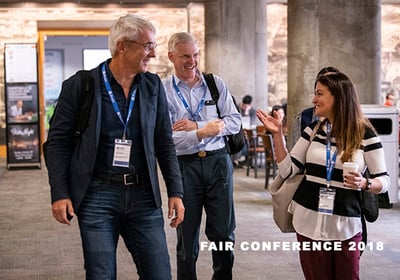 As we start 2019, the Institute community is very excited about the first of our lineup of events throughout the year. Sign up for the events below today to reserve your spot. We look forward to seeing you in 2019!
---
We will be hosting a FAIR Analysis Fundamentals Training Course before RSAC. On Sunday, March 3 through Monday, March 4, attend the FAIR Training course to learn the conceptual foundation and practical experience necessary to competently perform FAIR analyses. This training course is led by experienced practitioners and will improve participants' abilities to identify, measure, and communicate risk.
By the end of the course, participants will be able to:
Know and apply consistent FAIR-based terminology
Know and apply the FAIR ontology to risk scenarios
Use various measurement concepts to select scenarios for analysis and estimate risk factors using probability distributions
Understand the use of calibrated estimation in quantitative risk analysis
Follow a consistent process to scope risk scenarios for analysis
Map various controls to corresponding parts of the FAIR ontology
Understand and interpret the results of a FAIR analysis
Apply their knowledge to case studies, based on real-life analyses
FAIR Analysis Fundamentals prepares learners for the OpenFAIR Certification exam by providing a foundational understanding of the FAIR model and the underlying concepts of FAIR analysis. (16 CPEs, study guide and exam voucher included).
Last year, Jack Jones presented a road-map for successfully adopting FAIR within an organization and enable more effective decision-making. Since then, many organizations have applied that expertise and channeled it into concrete examples of FAIR adoption.
Join other cyber risk executives for a high-impact breakfast meeting on Wednesday, March 6 at 8 AM, during the RSA Conference 2019 in San Francisco to learn from other industry leaders about their experiences on:
Using FAIR to make better cybersecurity and business decisions
What it took to adopt FAIR within their organization
When: Wednesday, March 6, 2018, 8:00 - 11:00 AM
Where: Courtyard by Marriott San Francisco Downtown, 299 2nd Street, Rincon Hill Room, San Francisco, CA 94105 (map - 7 min. walk from Moscone Center)
Agenda:
Breakfast & Networking
Welcome Remarks
Showcase: Case Study Presentations
Q&A Session moderated by Jack Jones, author of FAIR
The 2019 FAIR Conference and Training will be held at the Gaylord Convention Center & Resort in National Harbor, MD, just outside Washington, DC, on September 24 & 25, 2019!
The fourth annual conference will be our largest yet with more sessions, multiple learning tracks, and two optional training courses offered before the conference!
Hosted by the FAIR Institute and our sponsoring partners, the 2019 FAIR Conference brings leaders in information and operational risk management together to explore best FAIR practices that produce greater value and alignment with business goals.
With FAIR and a quantitative approach, large enterprises and government organizations are creating breakthroughs in the management of information and operational risk that enable business-aligned communication, cost-effective decision-making and ultimately managing what matters. Watch the videos from the 2018 FAIR Conference.
Early bird tickets are available now, so don't waste any training budget – reserve your spot today!