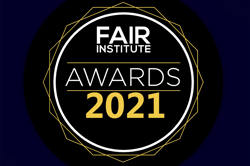 The FAIR Institute announced the winners of the annual Excellence Awards for 2021, honoring three leaders in advancing the discipline of measuring and managing cyber and operational risk:
Business Innovator Award Winner Zach Cossairt, Information Security Program Manager, Equinix
FAIR Champion Award Winner Christopher Porter, CISO, Fannie Mae
FAIR Ambassador Winners Christophe Foret and Tom Callaghan, Co-Chairs, FAIR Institute Paris Chapter and Co-Founders, C-Risk
The FAIR Institute is an expert, non-profit organization advancing risk management practices based on Factor Analysis of Information Risk (FAIR™), the international standard for quantified analysis of risk.
---
Become a member of the FAIR Institute and join the movement for better risk management practices – join now!
---
The awards were presented today at the 2021 FAIR Conference, held online this week, and attended by nearly 2,000 CISOs and other business and risk professionals.
The FAIR Institute Excellence Awards honor risk management leaders for their initiative, ingenuity and contributions to information/cybersecurity and operational risk management through their use and advocacy of FAIR.
The awards recognize the deep impact that these professionals have on their organizations in enabling operational excellence and effective decision-making and in balancing the need to protect their organizations while running the business.
FAIR Business Innovator Award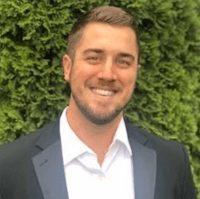 The Business Innovator Award recognizes innovative risk officers who successfully apply FAIR principles to disrupt the status quo by leveraging new risk analytic capabilities.
Zach Cossairt has brought cyber risk quantification to Equinix, a Fortune 500 tech company. Zach is now leading the integration of quantitative analysis into the corporate IT risk register, patch prioritization, security project planning and prioritization and compliance program gap analysis. Zach and team are using the FAIR model to provide quantitative insight directly to the CISO and Board, and are influencing the way decisions are being made.
Zach has done an outstanding job of reshaping the information security culture to be data driven. The challenge at Equinix has shifted from gaining "buy-in" to managing expectations and using resources to meet the new demand for quantitative analysis.
Also nominated for the Business Innovator Award:
Mary Elizabeth Faulkner, CISO, Thrivent Financial
Bret Hunoldt, CISO, REEF Technology
---
FAIR training through the FAIR Institute – learn more about advanced and beginner courses.
---
FAIR Champion Award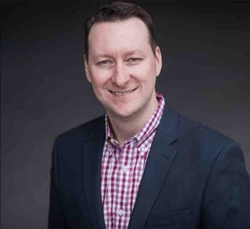 The FAIR Champion Award recognizes leaders at the forefront of their organization's FAIR initiative who get data owners on board, stakeholders to help improve analysis, and decision-makers to adopt the resulting analytics as an integral part of their strategies, decision-making processes, and operating rhythms.
Christopher Porter, CISO, Fannie Mae, is a longtime FAIR advocate and innovator who has successfully integrated quantitative risk analysis in operational decision-making processes.
Chris and the Fannie Mae team developed the concept called FAIR-FAST to ensure rapid risk analysis for issue management, which then allows detailed analysis to focus on strategic top-risk decision support.
For example, this year with the rapid growth in the mortgage marketplace, Chris has intensely focused on business resiliency. Fannie Mae is deemed part of the nation's critical financial infrastructure and FAIR assessments have enabled Fannie Mae to ensure effective controls are appropriately resourced to crown-jewel systems which enable the firm to confidently continue operations.
Learn more:
Meet a Member Podcast: Christopher Porter, CISO at Fannie Mae and FAIR Institute Board Member
Video: How FAIR™ Cyber Risk Analysis Showed the Way to 3 Risk Reduction Wins for Fannie Mae
Also nominated for the FAIR Champion Award:
Cedric De Carvalho, Cyber Risk Manager, Richemont International, SA
Dan Garcia, Deputy CISO, Datto


FAIR Ambassador Award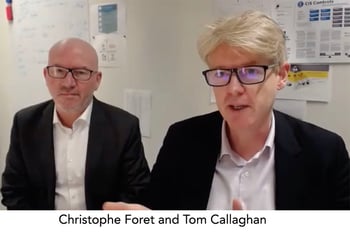 The FAIR Ambassador Award recognizes specific members' work in bringing FAIR knowledge and the FAIR Institute to the wider community.
Christophe Foret and Tom Callaghan co-chair the European Chapter of the FAIR Institute and are the co-founders of risk management consultancy C-Risk, based in Paris.
They are leading the way in the FAIR community in France and throughout Europe. Initially starting out as Paris Chapter Chairs in 2018, they used virtual meetings 2020 and 2021 to reach Institute members throughout Europe. With almost 200 members in the Paris Chapter, and many more around Europe, Christophe and Tom have been very busy making sure that they are getting the message out to everyone.
Both Christophe and Tom are busy raising awareness not only through hosting chapter events and meetings, but also acting as FAIR Institute representatives at industry events like the annual International Forum on Cybersecurity.
Learn more:
Meet the Members Podcast: Paris Chapter Leaders Tom Callaghan and Christophe Foret, Co-Founders of C-Risk
Risk-Based GDPR Compliance with FAIR – Q&A with European Chapter Co-Chairs Christophe Foret and Tom Callaghan of C-Risk
Also nominated for the FAIR Ambassador Award:
Mike Radigan, Chair, Ohio Local Chapter, Sr. Advisor, Cyber Risk Management, Cisco
Chip Block, Chair, Washington, DC, Chapter, VP at Evolver