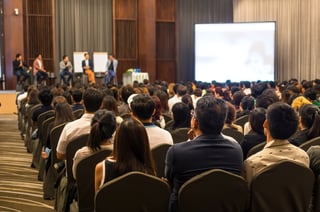 The 2017 FAIR Conference is less than 3 months away: October 16 and 17 in Dallas, Texas. This exclusive conference brings leaders in information and operational risk management together to explore FAIR best practices that produce greater value and alignment with business goals.
Embrace the opportunity to meet and network with C-level executives and learn from their experiences with FAIR. After FAIRCON17, join us for additional FAIR Training to further your education and take a step towards becoming FAIR certified.
Looking for reasons to persuade your boss to send you to FAIRCON17? Here are five things that you, your team–and your boss–will learn:
Get up to date and out ahead of trends in risk management
Hear Jack Jones' keynote address Risk Management in 2017: Where Do We Go from Here? to find out about the landscape of our dynamic industry from the creator of the FAIR model and a recognized cutting-edge thinker on risk today.


Learn the most effective ways to communicate risk to your board of directors
Attend the panel What CISOs Need to Tell the Board About Cyber and Technology Risk to discover the best practices when translating risk into business language for the Board from experienced CISOs and Board Members.


Find out how to implement a market-based model for cybersecurity.
Learn why industrial-age control mechanisms don't fit the digital age from Larry Clinton, President and CEO of Internet Security Alliance (ISA), and author of The Cybersecurity Social Contract: Implementing a Market-Based Model for Cybersecurity.


Hear firsthand experiences on how to best handle regulations.
Top regulators and executives will speak on How to Balance Risk Management and Regulatory Compliance and teach valuable skills based on their personal experiences. Brush up on the best ways to show due diligence to regulators before the session.


Take an in-depth look at how FAIR can help you manage operational risk.
Join FAIR Institute Board Member–and op risk workgroup leader-- Evan Wheeler to discuss a case study on Managing Operational Risk Using FAIR and delve into the Top Operational Risks of 2017.


Check out the full FAIRCON17 agenda. Our discount pricing ends on September 30, so don't miss a chance to secure the best deal on your ticket.