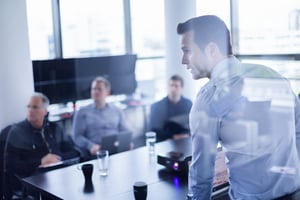 Risk management teams in every industry are sending their analysts and managers on investigative searches for risk quantification methods that will help them fulfill new compliance regulations, bring clarity to IT audits, align business and security efforts, or just better utilize their data.
For many, this search has brought them to the FAIR™ standard (Factor Analysis of Information Risk) and its primary educational resource, the FAIR Institute.
If you're here, you're probably excited about FAIR, but you're not an expert yet. You're still in investigative territory, and you still have big questions to research. At the FAIR Institute, we have a keen sense of the questions you're being asked, and we're ready to answer them for you, too. But we're here to support your efforts beyond just being an answer finder.
One of the best ways we do this is by providing FAIR Institute Executive Briefings. The idea is to take some of the weight off your shoulders and let us educate your leadership. Executive Briefings are for teams that are already open to a conversation about how FAIR and risk quantification can be successful in your organization or industry.
We can lead discussions to cover these concerns:
Is risk quantification actually possible?
What is FAIR and how does it work?
Does FAIR integrate with our current standards and frameworks?
What is the timeline of implementing FAIR methodology?
What are the steps to implementation and integration?
What does my team need to be successful?
How are other organizations using FAIR?
How are companies successfully operationalizing and scaling FAIR?
To start, we'll organize a call between you and an Enablement Specialist here at the Institute, and work from there to build a presentation suited to your organization's needs. We'll ask you:
What is the current knowledge/interest of FAIR among your colleagues?
Are there any specific risk management goals that would be useful if we focused on during the presentation?
Where do you think risk quantification and FAIR can best help your organization?
Are there specific challenges that you would like to hear about overcoming?
---
Harris Moriarty is a FAIR Enablement Specialist for the FAIR Institute
---
How an Executive Briefing Works
What is it…?
We pull together our experienced FAIR strategists to build a complimentary, 60-90-minute session that explains the merits of the FAIR standard and the potential success of FAIR in your organization specifically, with plenty of time for Q&A that can run the gamut from a philosophical level to a particular interest in operationalization and the tools that can take you there.
Who should be there…?
For the best use of the time, include department heads, directors, CISOs and board members whose buy-in will be necessary for going ahead with a quantitative risk management program. Everyone is welcome, but the presentation is built for executive leadership.
What you'll get…
A personalized presentation that will let you…
Learn about FAIR and how it can help you.
Hear about how you, specifically, can use FAIR. It's more than just a cool idea.
Investigate application and program options that can help you build a quantitative risk management capability
Frame where to go from here.
Develop a real timeline of action.
To inquire about an executive briefing for your team, send a note to a FAIR Institute Enablement Specialist at fes@fairinstitute.org.
Learn more:
Frequently Asked Questions about FAIR™ Training
12 Bits of Advice from FAIR Veterans to New FAIR Evangelists
How You Can Become a FAIR Champion in 5 Steps