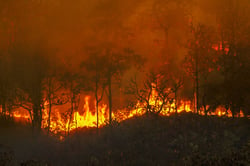 When a huge fire devastated Sonoma County over three weeks in 2017, the county government was tested to the maximum as it stood up emergency services for citizens, tried to cover for absent, homeless employees and, for Jonathan Kajeckas of the Information Systems department, handled website outages, power failures and degraded telecommunications.
After the smoke had cleared, Kajeckas considered what could be learned from the disaster and, as he told the recent 2021 FAIR Conference, how he could rebuild IT with resilience for emergency management planning and preparedness.
---
FAIRCON21
Case Study: Use of FAIR For Emergency Management Planning and Preparedness
Jonathan Kajeckas, Information Systems Department, County of Sonoma
Chip Block, Chief Solutions Architect, Evolver LLC and Chair, FAIR Institute Washington, DC, Chapter
FAIR Institute members can watch the video of this FAIRCON21 session in the LINK member community. Not a member yet? Join the FAIR Institute now, then sign up for LINK.
---
He had a lengthy wish list, including alternate data centers, a scalable website for emergency information, resilient network, email migration, mobile device transition. "Each required considerable investment. We needed a way to approach each of these potential investments," he said.
"We would have to approach this in a quantified way to arrive at useful information for driving decisions…What attracted us to FAIR™ is that it quantifies these impacts in dollar terms because this is the common language of all the lines of business and of executive management."
Learn FAIR quantitative risk analysis from experts, through the FAIR Institute.
The county engaged Chip Block and Evolver to launch an unusual FAIR program in that it analyzed not just cyber but earthquake and fire scenarios, and across a wide range of shareholder missions, from the police department to the highway department. As Block said, they realized that "down is down" for a system, regardless of cause, and that finding common loss magnitude elements – such as lost productivity – was key to integrating with FAIR.
"One of takeaways from this," Kajeckas said, "is that there is no single thing that we can do in order to ensure overall resilience for the services, but it really lies in having a knowledge of multiple capabilities and how they are affected by other events such as power loss."
Learn more about Sonoma County's FAIR experience – Watch the video of this FAIRCON21 session.