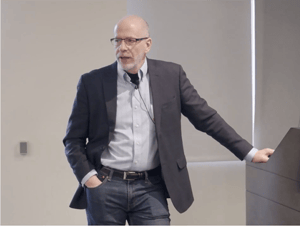 The FAIR Institute is excited to have our Chairman, Jack Jones, represent the Institute at multiple events and sessions at the 2018 RSA Conference in San Francisco later this month. If you're in town attending the conference, stop by the events below to hear Jack speak on the importance of quantitative analysis--and to say hello.
Tuesday, April 17
From "No Data" to "Drowning in Data"—It's Time for a Reality Check
Apr. 17, 2018 | 3:30 - 4:15 PM | Moscone South Esplanade 157, RSA Conference | San Francisco, CA
The old problem for the information security community was not enough data. The new problem is too much data, thanks to all the telemetry coming in from security technologies. In this session, Jack will present some actionable tips on the opportunities and challenges of data oversupply, what the future holds, and how we can get more useable intelligence from data.
Wednesday, April 18
FAIR Institute Breakfast Meeting
Apr. 18, 2018 | 7:30 - 10:00 AM | Morrison & Foerster LLP | San Francisco, CA
Join Jack Jones and a distinguished panel of cyber risk executives as they unveil "The Blueprint: Successfully Building Your FAIR Risk Management Program." Leading cybersecurity, operational risk, and business executives will make up an expert panel that will provide practical advice from industry leaders who are elevating their risk management programs. **This breakfast meeting has reached maximum capacity but we will be recording the sessions and posting them to FAIR Institute Link when the videos are finalized.
Issues of Quantifying Risk around Identity and Access Management (IAM)
Apr. 18, 2018 | 3:00 - 3:30 PM | Moscone West 2018, RSA Conference | San Francisco, CA
Jack and other experienced FAIR Institute members are panelists tackling the questions: How much effort should infosec teams continue to put into identity and access management? What's the risk in managing identities?
Thursday, April 19
RSA Archer Cyber Risk Quantification Launch Breakfast
Apr. 19, 2018 | 8:00 - 9:30 AM | RSA Booth N3601 - Moscone North Expo Hall
RSA Archer will host a breakfast and a demo of the new RSA Archer Cyber Risk Quantification® use case based on the FAIR model, on Thursday April 19th. Jack Jones will be on hand and will speak at 8:25 AM about Best Practices for FAIR Risk Management.