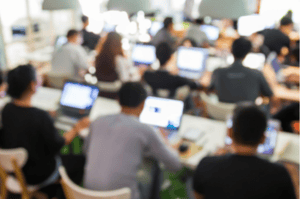 Vienna, VA – June 30th - ISSA, the prominent global association for cyber professionals, is pleased to announce a strategic alliance with the FAIR Institute as part of the overall vision of expanding educational resources to the Cyber and IT community. Recent events forced businesses, large corporations to small family owned operations, to rethink Cyber Security strategy as they abruptly learned measures to protect their network and information in a new world environment.
The FAIR Institute is a non-profit, expert, educational organization made up of over 8,700 members around the world, that is dedicated to advancing the discipline of measuring and managing information risk through the FAIR Model. "We are thrilled to provide ISSA members an exclusive offer to access and utilize our education and resources to further their careers and protect the organizations that employ them," said Director of Memberships and Programs, Luke Bader.
The FAIR™ (Factor Analysis of Information Risk) cyber risk framework has emerged as the sole international, standard model for quantitative risk analysis for cybersecurity and operational risk. FAIR™ provides information risk, cybersecurity, and business executives with the standards and best practices to help organizations measure, manage, and report on information risk from the business perspective. For the better part of a decade, FAIR™ has been helping numerous Global 2000 organizations and Government Agencies quantify their risk, thus enabling them to make better business decisions.
"ISSA is pleased to provide our members with valued Open FAIR Analysis Fundamentals Training during this crucial time of need," said ISSA Executive Director Marc Thompson.
Whether you are looking to enhance your skills or begin learning best practices, the exclusive discounted training provided by FAIR Institute, in partnership with Institute Technical Advisor RiskLens, will be incredibly beneficial.
About ISSA
The Information Systems Security Association (ISSA)™ is the community of choice for international cyber security professionals dedicated to advancing individual growth, managing technology risk, and protecting critical information and infrastructure. ISSA members and award winners include many of the industry's notable luminaries and represent a broad range of industries – from communications, education, healthcare, manufacturing, financial and consulting to IT – as well as federal, state and local government departments and agencies. Through regional chapter meetings, conferences, networking events and content, members tap into a wealth of shared knowledge and expertise. Follow us on Twitter at @ISSAINTL. Learn more about ISSA.
About the FAIR Institute
The FAIR Institute is an expert, non-profit organization led by information risk officers, CISOs and business executives, created to develop and share standard information risk management practices based on FAIR™. Factor Analysis of Information Risk (FAIR™) is the only international standard analytics model for information security and operational risk. FAIR™ helps organizations quantify and manage risk from the business perspective and enables cost-effective decision-making. To learn more and get involved visit: www.fairinstitute.org.