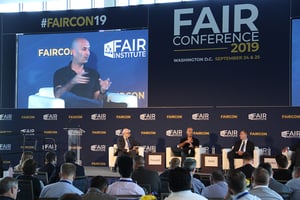 The FAIR Institute's 2021 FAIR Conference (FAIRCON21)will take place this year on October 19-20, 2021, with optional training courses pre-conference -- REGISTER NOW FOR FAIRCON21!
This year, our goal is to achieve the same level of reach as last year while providing an option for in-person or virtual attendance. FAIRCON21 will happen both in-person at the Gaylord National Resort and Convention Center near Washington, DC, and online, on our state-of-the-art virtual event platform.
---
Take advantage now of our early registration discount for the in-person event: $150 off General and Non-Member tickets. Use the code 'FC21EARLYBIRD' at checkout
---
Our team will continue to actively monitor event capabilities in the United States and will make any decision going forward based on the health and well-being of our members.
FAIRCON21 will continue to be the top event dedicated to providing you with actionable presentations on FAIR™ and how a quantitative risk management program empowers you to:
Justify your budget and show return on investment on security projects
Assess risk in financial terms to better communicate to the Board
Meet a growing number of regulatory pressures
Prioritize risk mitigation activities at your organization
Last year's virtual FAIRCON, though different from the past, provided a new opportunity for more attendees than ever (over 2,200!) to hear from our expert members on the benefits of adopting the FAIR™ standard quantitative risk model.
Check out our agenda sessions from FAIRCON2020 on FAIR Institute LINK here: FAIRCON2020 Session Videos. Some of our most popular sessions included:
You must be a FAIR Institute member to access the videos and you can apply for membership here: Get Involved.
More conference information is to come via the FAIR Institute Events page. Luckily, you don't have to wait until October to share your excitement; use the hashtag #FAIRCON21 on social outlets to let us know you're planning to be there, and feel free to tag our handle on Twitter: @FAIRInstitute.