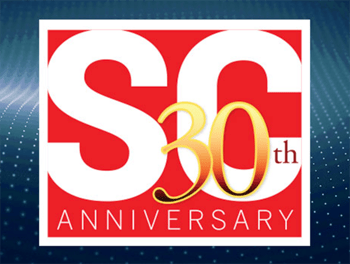 SC Media honored the FAIR Institute as one of the three "Most Important Industry Organizations of the Last 30 Years" at the 2019 SC Awards ceremony last night in San Francisco during the RSA Conference.
The prestigious annual award honors the best organizations and technology of the year – and this year, SC Magazine also marked its 30th anniversary by singling out the significant organizations, products and visionaries of the last three decades. Named in the same category with the FAIR Institute were ISACA and Shared Assessments.
The SC Media honor caps three years of rapid progress since the Institute's founding. Membership passed 4,000 in December, members now come from 87 different countries and 20% of the member base is comprised of senior leadership of security and risk, including CISOs, Vice Presidents, Heads of Security, and C-Suite Executives from the largest companies in the world.
The membership stats also show the rapid adoption of FAIR ( Factor Analysis of Information Risk), the international standard for quantitative cyber and operational risk analysis: Nearly 30% of the Fortune 1000 companies are represented among Institute members. A recent Wall Street Journal article said that FAIR is "gaining traction" among sophisticated risk management operations at major companies.
Another sign of progress for FAIR in the cybersecurity world: This year's RSA Conference featured a lineup of speakers advancing a risk-based approach to security. FAIR model creator and Institute Chairman Jack Jones is speaking on Defining a Cyber-Risk Appetite That Works Wednesday, 1:30 PM. And the annual FAIR Institute Breakfast at RSA Wednesday morning attracted a record crowd to hear a panel of FAIR practitioners present real-life case studies on how they deployed FAIR in their organizations, with Jack leading the discussion.
The RSA Conference was preceded by a well-attended FAIR training course. If you missed it, the SANS Institute is also offering FAIR training in 2019. And coming in September is the premier training and networking event for risk professionals, the 2019 FAIR Conference at National Harbor, MD, near Washington, DC.
Read more about the SC Awards in SC Magazine
Read the press release on the SC Awards honor for the FAIR Institute