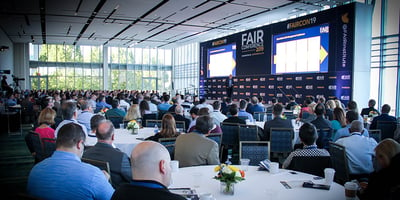 To judge from the most-read topics of the year, FAIR Institute blog readers were focused on keeping up with the risk quantification movement and learning all they could about FAIR™ best practices. Leading off the list were the two big events of the year, the 2019 FAIR Conference and the addition of FAIR to the NIST CSF as a recommended resource for risk analysis and risk management.
Here they are, the Top 5 Topics on the FAIR Institute Blog in 2019:
#5 FAIR Institute Growth – Membership Nearly Doubles, New Chapters Added
We just published this blog post in December, and it has already become one of the most popular of the year – and no wonder, given that interest in FAIR and participation in the FAIR Institute is shooting upward. Institute membership has passed 7,200, nearly doubled in a year, and now includes members in 100 countries and representing more than one-third of Fortune 1000 companies.
Blog post:
2019 FAIR Institute Growth Leads to the Launch of Three New Local Chapters
#4 "Meet a Member" Blog Posts, from KeyBank, Mastercard, Lyft and More
One of the key benefits for FAIR Institute members is connecting with other members of the FAIR and risk quantification movement at local events, the annual FAIR Conference and online in the LINK community board. Naturally, our Meet a Member series of interviews was one of the favorite topics of the year.
Some of the Meet a Member videos:
(Video) Meet a Member: Robert Immella, Senior Information Security Risk Analyst, KeyBank
(Video) Meet a Member: Brandon Myers, Risk Management and Corporate Security Architect, Mastercard
(Video) Meet a Member: Daniel Davis, Security Analyst at Lyft
#3 Annual Maturity Benchmark Survey
We saw record participation in this year's annual survey, an opportunity to take a structured evaluation of your organization's processes, such as controls/asset/threat visibility, risk models and risk analyst skills. Final results will be announced early in the new year.
Blog post:
Participate in the 3rd Annual 2019 Risk Management Maturity Benchmark Survey
#2 NIST Maps FAIR to the CSF
This was the news event of the year for the risk quantification movement: As we wrote, "NIST has formally published FAIR as an Informative Reference to the NIST CSF, the most widely used cybersecurity framework in the U.S, a major milestone in the history of FAIR…This is confirmation that organizations can be confident employing FAIR for their risk analyses alongside the other NIST CSF framework processes."
Blog posts:
NIST Maps FAIR to the CSF - Big Step Forward in Acceptance of Cyber Risk Quantification
All-in-One Matrix: Regulatory Compliance Risk Assessment Overview - Updated with NIST CSF + FAIR
NIST CSF and FAIR Integration at Cimpress Called "Success Story" by NIST
How a CISO Uses FAIR with NIST CSF to Manage Cyber Risk Across Business Units
#1 2019 FAIR Conference Videos and Session Coverage
The 30 published blog posts and videos covering FAIR Conference 2019, were together the most popular feature of the year, as blog readers took full advantage of the insights, inspiration and shared experiences that poured forth from the stage from Douglas Hubbard (right), Jack Jones and others at our best-attended conference ever.
SAVE THE DATE: FAIR Conference 2020 is coming back to Washington, DC, October 6-7.
Here are the most popular blog posts on the topic:
FAIRCON19 Video: Doug Hubbard on Overcoming the Myths of Cyber Risk Measurement
FAIR Institute Announces 2019 Winners of Annual Excellence Awards at FAIR Conference
FAIRCON19 Video: Jack Jones Keynote "Risk Management Programs that Actually Work"